---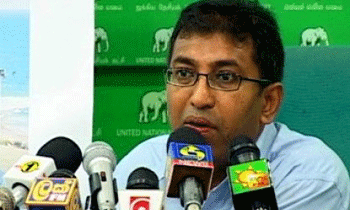 Justice Minister Wijeyadasa Rajapakshe express his own opinion on any subject but it is wrong to make a statement on a subject on which a collective decision was taken by the Cabinet of which he was a member, State Minister Harsha De Silva said today.
Responding to questions asked by a journalist referring to the statement made by the minister on the Hambantota Port earlier this month.
The state minister said it was unethical of the minister to do so.
He said he saw on the web about a no-confidence motion against the Justice Minister but but was unaware of any such moves adding that party matters would be discussed with the Prime Minister and the party leaders while Cabinet would be sorted out in the Cabinet.
The state minister said the UNP created a new trend with Minister Ravi Karunanayake's resignation and that the UNP had no intention of influencing the Attorney General's Department.
He said under the previous regime the AG's Department was under former president Mahinda Rajapaksa and it functioned to suit his dictates. (Thilanka Kanakarathna)
Video by Buddhi