---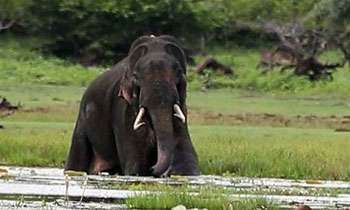 The Wild Life Department has launched a special investigation into the death of Tusker 'Missaka,' that frequented the Yala Sanctuary, following an order issued by the Tissamaharama Magistrate's Court.
Speaking to the Daily Mirror, Yala National Park Warden D. P. Siyasinghe said on Saturday that a special team had been assigned to investigate the incident.
"The post-mortem examination was done on Friday. A team comprising wild life officers, police officers and several army officers was assigned to conduct the investigations," he said.
Mr. Siyasinghe said the tusker may have died from injuries sustained from trap gun.
"It was hard to locate the exact place where the tusker was shot. The tusker had been shot two or three weeks ago and it may have roamed the Sanctuary with the injuries," he said.
The tusker died from sepsis on Thursday morning.(Chaturanga Samarawickrama)