---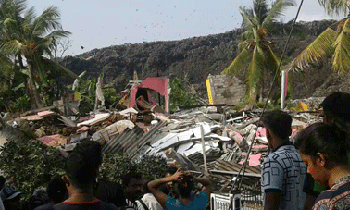 A section of the Meethotamulla garbage mountain had collapsed this afternoon destroying a large number of houses and injuring several people, residents said.
"We believe that some 100 houses were destroyed or damaged due to the incident," lawyer Nuwan Bopage told Daily Mirror online a short while ago.
Meanwhile, National Hospital sources confirmed that at least six persons were admitted to the hospital following the incident at Meethotamulla.
Meanwhile, President Maithripala Sirisena has instructed the three forces, Police and the Disaster Management Ministry to provide immediate relief to those who were affected due to the incident.
Sri Lanka Air Force said that it has deployed a Bell 212 helicopter with a Bambi bucket to control a fire that broke out after the collapsing of the garbage dump.