---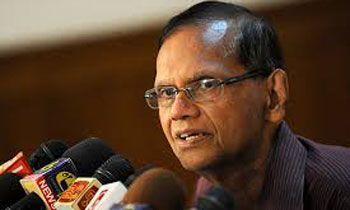 The Sri Lanka Podujana Peramuna (SLPP), which got its nominations for six local government (LG) bodies rejected, said yesterday it would seek legal consultations to reverse the decision not for all but for some of the LG bodies.
SLPP Chairman G.L. Peiris said different reasons resulted inthe rejection of their nominations.
"However, we will seek legal consultations to take further action to get the decision reversed for some of the LG bodies," he told the Daily Mirror.
Accordingly, the party nominations for the Maharagama Urban Council was rejected due to a technical issue. The gender of a female candidate had been marked as 'male' in the list.
The SLPP nomination for Weligama had been rejected by Matara District Returning Officer Pradeep Ratnayaka on the grounds that the nomination had not been submitted by a member of the party or an authorized agent.
The returning officer had taken the decision after considering the objections raised by Provincial Council Minister Jayantha Pathirana (JVP) and other authorized agents of political parties.
Meanwhile, Badulla District Returning Officer Nimal Abesiri had rejected the nomination list of Mahiyanganaya based on a technical issue of selecting 'opposite gender' of a candidate.
The list for Badulla had been rejected because one candidate's signature had been included without the name.
The nomination list for the Agalawatte Pradeshiya Sabha had been rejected because the date of the list had been mentioned as December 17 instead of December 14.
The party had failed to mention the date of signature for the Panadura Urban Counil resulting in the list being rejected.
Prof. Peiris said the people should realise the genuine opposition was the Joint opposition and anyone who is against the conduct of the government should support the JO backed the SLPP.
The Party had submitted nominations for 84 LG bodies out of the 93 under the SLPP 'lotus bud' sign, for seven LG bodies under the 'boat' sign for Bandarawela and Beruwala from Independent lists.
Reporting by Krishan Jeewaka Jayaruk, Muditha Dayananda, Palitha Ariyawansha, Prasad Rukmal, Prasanna Pathmasiri and Sunil S. Thanthriarachchi (Lahiru Pothmulla).