---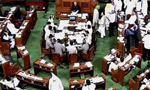 Demands for taking back the Katchatheevu Island from Sri Lanka were among several issues raised in the Lok Sabha today, PTI reported.
Raising the issue, K N Ramachandran of the AIADMK party expressed concern over the growing incidents of harassment inflicted on Tamil Nadu fishermen by the Sri Lankan Navy.
He said as part of finding a permanent solution to the issue, India should take back the Katchatheevu Island that it had handed over to Sri Lanka in 1974.
He contended that the island, which has been vital for Indian fishermen, could be taken back given the fact that the concerned agreement had not been ratified by Parliament.