---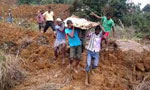 Five more bodies were recovered from Bulathkohupitiya landside site area bringing the total death toll to ten, Army Spokesman Brigadier Jayanath Jayaweera said.
The death toll in Aranayaka landslide site remains as 14 as no bodies were recovered since yesterday, the Brigadier said.
Six people were still missing in Bulathkohupitiyan he said.
Meanwhile Disaster Management Centre (DMC) spokesman Pradeep Kodippili said the total island wide death toll was reported as 41.