---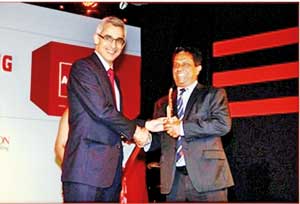 Sampath Bank has yet again made news by winning the award for runner-up in the category of Banking Industry at the prestigious Sustainability Reporting Awards 2014, organized by the Association of Chartered Certified Accountants (ACCA) Sri Lanka.
The ACCA Sustainability Reporting Awards aims to assist organizations in demonstrating corporate integrity and accountability in businesses and Sampath Bank's steadfast commitment towards this has proved to be rewarding in terms of positive recognition and long-term benefits to the company and its communities.
Sustainability report is a published report on the economic, environmental, social impacts of a company's actions, which demonstrates the link between corporate strategy, governance and commitment, to a sustainable economy, environment and society. It also raises awareness of corporate transparency issues and increases accountability towards stakeholders. This enables stakeholder awareness of the organization's true value, improves reputation and brand loyalty by emphasizing its combination of long term profitability with ethical behavior, social justice and environmental care.
Sampath Bank's Deputy General Manager - Marketing and Business Development, Tharaka Ranwala, speaking about the bank's alignment between its corporate and sustainability objectives, said, "We have embraced the triple bottom line model - People, Planet & Profit to convey value to all those impacted by our work. Being a core value creator, we are committed to engendering meaningful change for the nation, safeguarding the future of the planet, creating tangible value to our people, while also ensuring the stability and profitability of our institution through the combination of financial strength and structured risk mapping. Therefore, we have moved away from the traditional philanthropic focus, and embarked on a journey of value creation that focuses on creating competitive advantages for all our stakeholders."
When approached about the topic of Sampath Bank's sustainability reporting efforts, Tharaka Ranwala said, "We believe that sustainability reporting provides us with an opportunity to create a mutual understanding of how our business affects and handles its impact on the community at large."
The bank has succeeded in a number of CSR initiatives like 'Hope for a Life', the endowment of the Neuro Navigator System to the National Hospital of Sri Lanka, which won the Best Sustainability Project award at Best Corporate Citizen Awards 2014. The bank made a significant contribution towards community empowerment and economic development through its 'Wewata Jeewayak' programme which saw the reconstruction of Dematawa tank in Panduvasnuwara, Kurunegala district.
Since its inception in 2004, ACCA Sri Lanka's effort to encourage sustainability reporting which is highly valued by investors seeking assurance that a company shows awareness of its responsibility towards its stakeholders, has been a crucial stepping stone towards emphasizing the need for integrity, governance and socially responsible business practices in Sri Lanka.
The main judging criteria of the ACCA awards was based on Completeness, Credibility and Communication, where the purpose of the award would reward, recognize, encourage and raise awareness of responsible corporate entities that create an impact on the environment and society.
---
Add comment

Comments will be edited (grammar, spelling and slang) and authorized at the discretion of Daily Mirror online. The website also has the right not to publish selected comments.

---