---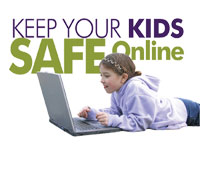 The Internet has brought the world into our homes and is a veritable treasure trove of information for all the family to explore. From homework help to online collaboration, messaging and researching, our children can gain a lot from the web. Using Internet communication tools such as mobile phones, social networking, online gaming, chat rooms, email, and instant messaging can put children at potential risk of encountering online predators. Children present additional challenges because of their natural characteristics such as innocence, curiosity, desire for independence, and fear of punishment.

In many cases, kids are more technologically advanced than adults, so some parents may feel intimidated and refrain from enforcing rules that are imperative to protect their children as they surf and socialize online. Fortunately, security software is available that can restrict what kids see and do on the web, taking a lot of pressure off parents to stay current with every new risk. But it is still important that parents get involved with their kids' online lives, and make sure that their children know how to act and how to react to what they see on the web.

Parents Commitment for Online Safety
I will make a point to talk to my child about the risks of social networks and help them set their privacy settings to high security to keep them protected while they are having fun online.
I will make sure my child will not post any personnel issues on Facebook.
(This usually happens in the "Status Message". Facebook is not a therapist or a physiatric, so encourage them to share personnel issues with you or elders in the family.
I will educate my child to think twice before they post personal information such as full name, address, phone number, and name of the school, or anything else that may endanger friends or your family.
I will ask my child if it would be okay if they gave their passwords to me for safety purposes, and ensure that I will not go on their sites without their knowledge. I will make them aware to keep the passwords safe and secure, and to refrain from telling anyone (even their best friends) what they are.
I will make an effort to be involved with my kids online lives, especially if they invite me to look at their favorite sites, Facebook photos, or play their favorite games.
If my child asks to meet up with an online stranger in real life, I will sit down with them and make them aware of the dangers that entails. I will keep an open mind and offer to go with them during the meeting. If anything seems suspicious, I will not hesitate to say no and inform my child of why they are not allowed to go.
If my child posts a photo or video of them or their friends online that I feel is inappropriate or compromising their safety, I will talk to my child about the consequences and longevity of posting photos or videos online, and will calmly request them to remove it from their site.
I will listen to my child when they talk to me about what happens online, and if a problem does occur, such as my child being a victim of cyber bullying, I will remain calm and support my child through the entire situation and report any abuse to authorities.
• Advice your children to be cautious and trust their instincts. If something seems suspicious or makes them feel uncomfortable, depressed, or angry, then ask them to bring it to the parent's attention and parents will decide what to do together.

Guidelines to Internet Safety

Be aware of the types of websites and games that your child frequents. Make sure they have the proper safety and privacy settings. Most social networking sites have two types of privacy settings: Public (everyone and anyone can view your child's profile) and Private (only people on your child's friends list are able to view their profile).
Geo-tagging is a feature on phones that posts the location of the photo when posted online. If your child uses their phone to post photos online, you may want to turn this feature off to protect their location and privacy.
Take a moment to become acquainted with internet lingo that kids use while on the computer. BRB>be right back, AFK>away from keyboard, BTW>by the way, POS>parent over shoulder, g2g>got to go, GG>good/great game, TTYL>talk to you later, etc. These are always changing, so looking up a recent list every once in a while might be handy.
If you feel the need to block access to some sites for your child, there are ways to do that. You may need to download a free and simple software that can block the sites that you designate. You may also want to consider monitoring your child's internet access instead of blocking sites, so you can allow them to explore online in a manner that allows you to easily step in if something is inappropriate.

Make sure your kids only accept friend requests from people that they know and they are careful posting private information online.
Talk to your child about cyber bullying and the implications it presents. Make sure they know that just because they can be anonymous online, they should not be cruel to anybody. Make them aware that cyber bullying is serious, illegal and can harm and even take others' lives if your child takes part in it.
("Cyber bullying" is defined as a young person tormenting, threatening, harassing, or embarrassing another young person using the Internet or other technologies, like cell phones)

If your child is the victim in cyber bullying, tell them to save all messages or images and tell you or a trusted adult immediately. Make sure to watch for behaviors that may indicate depression, and report the abuse.

If you decide to block or monitor your child's online activities, consider telling them beforehand so they do not feel betrayed if they find out. If you include them in your decision and inform them that it is for their safety, they may be more understanding and open to your plan.

If you create an open environment where you talk about and share the internet with your child, your child will feel they'll be able to trust you with their online activities. This way, if something bad comes up, such as your child being sent messages that make them feel uncomfortable or they're being cyber bullied, your child will know they can count on you to be there and you'll be able to resolve the problem efficiently.

Having communication between you and your child will allow you to be aware of any issues immediately if they arise and can bring your family closer together by adding to the trust you have in each other.
---
Add comment

Comments will be edited (grammar, spelling and slang) and authorized at the discretion of Daily Mirror online. The website also has the right not to publish selected comments.

---