---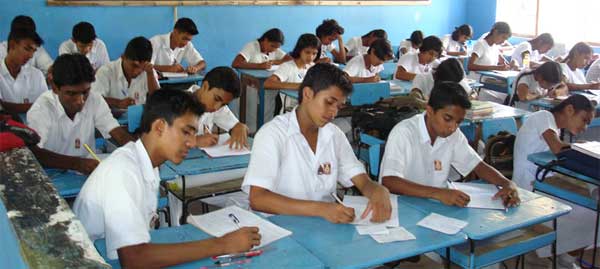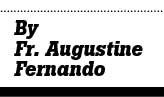 The Minister of Finance is allocating 6% of the budget for education and aims at making Sri Lanka's education system the best in Asia. If that is not to remain just another fanciful dream that is politically attractive, many practical things have to be done. Uppermost in the minds of many will be higher remuneration which may be justified if indeed it is a just recompense for dedicated performance of educators of a high standard. Unfortunately even after decades of "free education" the understanding as to what education is seems to be vague and poor at the highest decision making and administrative levels.





Education leads to meaning


Education is basically humanization. Stimulation of thinking, raising of intelligence, widening and building knowledge, a character forming complex process that gets simplified and direct in the hands of good teachers contribute to humanization. Therefore while eliminating unsuitable teachers – it is a waste of money to pay incapable teachers – recruiting the best available persons for training as teachers should be considered of the highest importance if the standards of education towards sound humanization are to be raised. And they too need to be continually updated and monitored through guidance and helpful inspections. While adequate remuneration is a significant factor there are other important factors that could attract those with very intelligent and capable minds to the profession of teaching the most important of which may be complete independence from political patronage and interference. In a good educational institution there should be freedom for scholarship as well as collaboration, unity in diversity rather than destructive rivalry among staff members or students and absolutely nothing that tends to dehumanize and is incompatible and goes counter to an educational environment.





Goals of Education


Providing space to attract the most suitable persons and eliminating the unsuitable ones for teaching may be a political policy decision. But a clarity of vision and understanding as to what a wholesome and integral education is has to come from a philosophy of education that has considered and focused on the high quality of the well formed persons who would be produced as a result of such a process. Our system of education should get about forming not a few hundred individuals of disciplined and well formed character in some special schools, but over four million students attending schools, universities and other higher institutes of learning and professional institutes in Sri Lanka. Education may have its own methods and processes of development of the human, human enquiry, experimentation and study yet it is not regimentation but an essential help to discover that life is worthwhile and precious and should be well and meaningfully lived with self-discipline.





Schools, Families humanize people


Education should not fall short in its overall preparation of human beings to live in healthy family units. The phenomenon of not only highly qualified professionals and well trained skilled workers among ordinary working people but also notable politicians and those on the highest rungs of society living maladjusted and disastrous family and social lives cannot be overlooked. The glaring moral and ethical deficiencies in their education and formation spill over to society at large with disastrous consequences. Further, the consequences of wrong education is evidenced also by organizations that distort and brainwash young minds that lead to national and international terrorism.

Education is always in a dynamic socioeconomic, democratic, politico-cultural environment influenced by major religions and should contribute to build healthy relations among individuals and communities and nations. And teachers are agents of civilization and culture and irreplaceable nation builders and world developers.





Key Persons in Education


Teachers are the most important agents in the system of education, not the Ministers of Education nor administrators.Teachers not only instruct but impress the malleable minds of their students and by their very personality have a lasting impact on them. The values displayed in the manner of the teacher's interest in the students and the manner of relating to students and the way of accepting and treating them, the manner of communication of the subject matter that is taught, the quality of preparation of lessons that has preceded the teaching, the depth of the teacher's knowledge and capacity, and importantly, the transparent integrity and way of the teacher's life, their very dress and conduct are continually perceived and critically assessed and absorbed by the students or silently ignored and rejected and even treated and thought of with contempt.

The authority of the teacher comes to be based not only on the overall knowledge, commitment, motivation and integrity of the teacher but on the teachers' overall ability to stimulate and raise the level of intelligence and thinking of the students to help them grow to good human beings. To such authority the students feel compelled to submit, listen and take in and digest what is communicated. To such teachers teaching is not just another profession; it has turned out to be a passion that bonds the teacher with the students; and nothing bonds them better than a shared and hopeful view of life. Teachers should be people with a spark in them, if not a flame and a fire and a boundless love for students. Good teachers make each new day come to life for every student.





Teachers, not political henchmen


For far too long, the spheres of education and important sectors affected by education; namely the police, defence forces, public transport and foreign postings have also provided easy slots for incompetent politicians to provide employment to their supporters and henchmen. Consequences have been calamitous.

The level of qualification, screening of candidates and their recruitment, the development of skills and quality of those recruited for training and motivation as teachers who are the key personnel in education have a direct bearing on students and should therefore be of primary importance in developing a healthy system of education. Education should be in the hands of good educationists and not in the hands of the Minister of Education or politicians except to provide support, challenge and encourage the educationists to be faithful to human and national ideals and perform. Such a system will develop the capacity to evolve, review and renew itself that it may not stagnate and grow stale. Teaching is indeed a formidable responsibility for which the most able, from the pre-school level to university levels should be appropriately selected. As this has not systematically happened yet because of base politics, ideologies of political parties and trade unions, the opportunity that the Minister of Finance presents with 6% of the budget seems ideal to make a beginning.