---

The arrest and detention of Jeyakumari Balendra resulted in a huge outcry strongly critical of the Government. The fact that Jeyakumari and her daughter were well-known participants in protest demonstrations placed the arrest in a negative light. It was alleged that the Govt was hunting down human rights activists in a bid to intimidate and silence human rights defenders. The alleged involvement of Jeyakumari with persons trying to revive the Liberation Tigers of Tamil Eelam (LTTE) in Sri Lanka was dismissed disdainfully as a figment of 'security' imagination.

The arrest of Jeyakumari Balendra was internationalised within hours of her detention. Tamil National Alliance (TNA) Northern Provincial Councillor Anandhi Sasitharan issued a statement on the arrest at the UN premises in Geneva. The British Tamil Forum (BTF) organised a demonstration opposite the British Prime Minister's office demanding the immediate release of Jeyakumari and her daughter. The British Channel 4 TV released a short video clip of an earlier interview with Ms Jeyakumari where she stated that she was being followed after participating in demonstrations.

The 'Tweedledum-Tweedledee' duo of the All Ceylon Tamil Congress (ACTC) and Tamil National Peoples Front (TNPF) organised a protest demonstration in the Vavuniya town on March 15. Around 50 persons participated. More than half of the demonstrators were from families of disappeared persons. Several TNA politicians like MP Sivasakthy Anandan, MP Vino Noharadhalingam, Northern Provincial Ministers Dr. Sathiyalingam and Deneeswaran and TNA Northern Councillor Dr. G. Gunaseelan also participated in the demonstration. Among the other participants were former Parliamentarian Selvarajah Gajendran and leading human rights activist Brito Fernando.

The arrest of Jeyakumari Balendra was followed up by more arrests in the north. Police anti-terrorism sleuths presumably acting on information gleaned from Jeyakumari Balendra and the two poster pastors in Pallai took into custody about a dozen persons of both sexes within 24 hours. Among these was Madini Ravindran in whose compound a barrel of mines, bombs, grenades, ammunition and a metal detector were uncovered. As details of arrests were made known in the Tamil media, fresh grist was added to the propaganda mills churning out accusations that the Govt was trying to suppress human rights activists.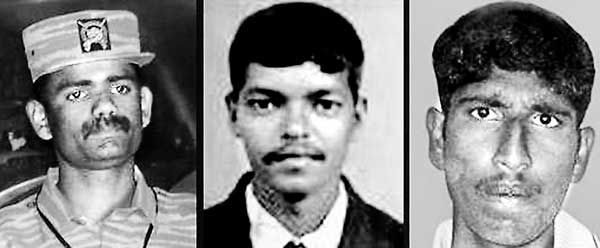 Security authorities were really cracking down hard. It was as if a giant sledgehammer was being used to crush a tiny mosquito. To be fair by the authorities, it must be said that they had no real grasp of the extent of the threat when it was first discovered



KILINOCHCHI
The allegation that the Govt was cracking down on human rights defenders gathered fresh momentum after a new development on March 16. Two well-known human rights activists, one a Sinhalese Catholic layman and the other a Catholic clergyman of Tamil-Sinhala mixed parentage were taken into custody in Kilinochchi. Kurukulasuriya Rukshan Fernando and Rev. Fr Praveen Mahesan Sellathurai widely known as Ruki and Fr. Praveen respectively were reportedly on a fact-finding mission in the Tharmapuram area of the Kilinochchi district when they were taken into custody. Ruki Fernando is currently serving as Human Rights advisor to the INFORM Human Rights Documentation Centre based in Colombo. Fr. Praveen Mahesan OMI who was Director of the Centre for Peace and Reconciliation (CPR) based in Jaffna was now the parish priest of the Amaithipuran Church at Akkarayan in the Kilinochchi district.

The duo was on a fact-finding mission in Kilinochchi and had reportedly visited the homes of Madini Ravindran and Ms Rasamalar Selvanayagam, the mother of Ponniah Selvanayagam Kajeepan alias Gobi. The security authorities became suspicious when the two human rights defenders were trying to go into Jeyakumari Balendra's house in Tharmapuram. Both were detained under the Prevention of Terrorism Act (PTA) and brought to Colombo after interrogation in Kilinochchi and Vavuniya.

The arrest of both - particularly Ruki Fernando, had a major impact on human rights activist circles. A number of petitions demanding their release were formulated. This writer too was a signatory to a petition prepared by concerned persons in Sri Lanka. An international protest campaign was also organised. The fact that Ms Jeyakumari Balendra, Mr. Ruki Fernando and Fr. Praveen Mahesan were all arrested in Kilinochchi, provided the basis to forge the campaign slogan. 'Free the Kilinochchi Three'.

There was however no need to continue the campaign further. Both persons were produced before a magistrate on March 19 and released pending further inquiry. While the human rights lobby depicted the release as a victory due to the protest campaign, security circles opined that both had been detained on suspicion only, and that they were released after an inquiry where the arrested persons had established their credentials as being on a fact-finding mission. However, when the released Ruki Fernando was interviewed about their detention by international media organs such as CNN and BBC, the officials in Colombo obtained another court order which debarred both Ruki and Fr. Praveen from speaking out about the incident.




CRACKDOWN
Despite accusations of the Govt targeting human rights defenders and sarcastic dismissals of the suspected LTTE revival attempt as a self –serving drama, the security authorities pursued investigations with single-minded purpose. The resurgence of the LTTE meant disaster for the country in general and the Tamils in particular. Thus the different intelligence agencies pooled their resources and together with the Police and Army commenced a huge crackdown. While the National Military and Police Intelligence planned and coordinated operations, the Military provided the necessary manpower to execute them. It is noteworthy that information dossiers about the LTTE revival attempt were given to diplomatic officials of important nations.

A key aspect of the security crackdown was the commencement of cordon-and-search operations. Acting on information, a particular locality would be targeted for a security sweep. Security personnel would swoop down suddenly and cordon off the targeted zone. Thereafter all youths would be required to come to a playground or open field with their identity documents. The documents would be perused and persons quizzed. Potential suspects would be taken to the local Police station and interrogated further. Thereafter some would be singled out and taken to TID offices while the rest would be released. While this activity went on at one level, house-to-house searches would be conducted at another level.

Cordon-and-search operations of this type were conducted in different areas of the Northern mainland known as the Wanni. Several arrests were made in areas like Vavuniya, Oddusuddan, Vishwamadhu, Tharmapuram, Puthukkudiyiruppu and Kilinochchi through these operations. The Jaffna peninsula however was relatively free of such cordon-and-search operations, barring one massive exercise.

A huge cordon-and-search operation was carried out in the Vaddukkoddai area. Security authorities had received a tip-off that Gobi was hiding in a house in a particular area. Hundreds of youths were rounded-up, brought to a sports stadium and interrogated. House-to-house searches were conducted and all outsiders other than members of resident families were arrested. The Grama Sevakhas were asked to identify non –residents of the area. One such person identified as an outsider was a man from Mannar. This turned out to be a prize catch. It was not Gobi but an ex-LTTE cadre called Kanthan. He had worked closely with Gobi in trying to revive the LTTE and proved to be a vital source of information.





After the war ended in May 2009, Theiveegan went across clandestinely by boat from Mannar to India. He established contact with Nediyavan in Norway and moved to South-East Asia. Thereafter he went to Europe and shuttled among many different countries



ODDUSUDDAN
Fresh 'wanted' posters with the names of Ponniah Selvanayagam Kajeepan alias Gobi and Navaratnam Navaneethan alias Appan were widely circulated. The posters evoked much interest and excitement. There was however an unexpected reaction in the area of Oddusuddan along the Maankulam-Mullaitheevu road. It was found that some unknown person or persons had systematically torn down and destroyed the wanted posters appearing in the general area of Oddusuddan.

When inquiries were made, the officials received further information from residents in the area. Acting upon such information the Police together with Military personnel conducted a cordon-and-search operation in the village of Koolaamurippu in the Oddusuddan area. Four youths – Salujan (24), Kamaladas (19), Sureshan (25) and Najeetharan (25) were arrested and taken to the Oddusuddan Police station. A crowd gathered, demanding the release of the youths. The crowd dispersed after being told that they would be produced in courts and released after investigations were concluded.
A subsequent development indicated that the incident may have had a positive impact on residents of Oddusuddan. The authorities received a tip-off that a person answering the description of Gobi had parked his vehicle at a parking depot for heavy vehicles at Oddusuddan. A search also revealed the presence of a truck belonging to Gobi on the premises. A further search disclosed that a three-wheeler driven by Appan was also parked there. Close inspection of the vehicles and related probes showed that both vehicles had been purchased through a reputed financial institution.

Arrests and related investigations demonstrated clearly that a plan had been designed to revive the LTTE in Sri Lanka. It was also clear that tiger elements in the global Tamil Diaspora were backing this effort and providing finances. One interesting feature was the wide use of computers in this revival attempt. Almost all of the suspected persons taken into custody were computer savvy. Though broken up into cells, the suspects were inter-linked via the internet and not tightly compartmentalised. A total of 64 computers from different places were seized during the course of investigations. Some of these are yet to be scrutinised fully, but much information has been obtained.




DIASPORA
The information gleaned from computers and seized telephones as well as the details disclosed by persons in custody helped the investigating sleuths obtain a rough idea of the attempt to revive the LTTE. It was clear that the exercise was being financed by tiger elements in the Diaspora. What troubled the security authorities was that this support seemed to cut across the factional divide in the overseas LTTE. Both the relatively larger 'Anaithulaga Seyalaham' (international secretariat) faction headed by Perinpanayagam Sivaparan alias 'Nediyavan' as well as the comparatively smaller 'Thalaimai Seyalagam' (headquarters or chief secretariat) faction led by Sekarampillai Vinayagamoorthy alias "Vinayagam" were helping out. Financing by the Vinayagam faction was mainly done from France while funds from the Nediyavan faction was through Switzerland.

Initially the security authorities were unaware of how strong the revived LTTE was, or of the scope and scale of tiger tentacles in the island. Preliminary information about matters like the potential assassination attempts in Colombo and elsewhere, the theft and usage of metal detectors to unearth hidden arsenals and the fact that a Police officer had been fired upon by a LTTE suspect for the first time after the war ended, were all instrumental in causing much apprehension in security circles about a tiger resurgence. As a result, the authorities were taking no chances like the one, Sub –inspector Ratnakumara took when he walked unarmed into the room where Gobi was hiding. One aspect of this hard approach was the strong legal measures adopted during the crackdown on suspected "terrorism".

Hundreds of people were quizzed. Over 70 persons from both sexes and varying ages were arrested for further investigations. Almost all of them were detained under the draconian Prevention of Terrorism Act (PTA). While key suspects were incarcerated at the TID headquarters in Colombo for interrogation the others were housed at the detention centre in Boossa, access was provided in most instances to the International Committee of Red Cross (ICRC) and family members to visit detainees and see their living conditions. Several suspects were also released pending further investigations after being produced before courts.

The manner in which the state and its security agencies responded to the LTTE revival challenge was rather harsh and action taken seemed visibly disproportionate. In what seemed to be a blatant display of overreaction the security authorities were really cracking down hard. It was as if a giant sledgehammer was being used to crush a tiny mosquito. To be fair by the authorities, it must be said that they had no real grasp of the extent of the threat when it was first discovered. The worst was feared from the perceived threat. The defence establishment lulled into complacency by the long absence of war was rudely woken up. Alarm bells rang down the corridors of power. Hence the initial 'anti-terrorist' response!





Despite tiger and pro-tiger elements abroad and their fellow travellers in Sri Lanka trying to convey an impression to the contrary, most right-thinking Tamils in Sri Lanka realise that a return of the LTTE means disaster and doom for the hapless community trying to resurrect itself from the pathetic plight in which it is nows



SUSPECTS
Although the use of the PTA in arresting and detaining suspects seems too strong a measure, it must be noted that steps were taken to minimise the damage incurred or inconvenience caused to innocents. People used unwittingly as pawns were spared. Money transfer agents used to send funds from abroad to the LTTE revivalists were not arrested after inquiries, though technically they were 'offenders' providing material support. Several family members of LTTE suspects were also not arrested after inquiries. Family members of key suspects like the mother and wife of Gobi were detained under the PTA and released later. Similiarly, many persons linked to the Dehiwela bakery who had been initially confined under the PTA were later produced in courts and released.

Another incident where suspects arrested under the PTA were later released was in Point Pedro. Investigators were alerted to the fact that a fishing trawler had been bought from foreign funds to be used in the future by the revived LTTE. The trawler was bought from a Sinhala fishing mudalali for 2.9 million rupees. The funds for the purchase had been sent by Veeramani alias Regan now living in France. Veeramani had served for a long time as the driver of LTTE supremo Veluppillai Prabhakaran.

Veeramani had remitted the funds to the bank account of his elder brother who had worked for a long time in the middle-east. The trawler had been bought in the name of Veeramani's younger brother. From information received it was suspected that the trawler was to be used in the future to ferry arms and person from India and also engage in clandestine activity via Negombo. The five-member crew including the registered trawler owner were arrested under the PTA.

Subsequently, the elder brother was also arrested. After inquiries, four members of the crew were deemed innocent and released. Currently, both the brothers of Veeramani are in custody. The chances are that they too will be released soon, as the task of establishing concrete guilt would be too difficult. Since the vessel or its owners have not engaged in any unlawful activity the mere fact that funds for purchasing were sent by a brother who was a former tiger may not be sufficient grounds for prosecution.




VAVUNIYA
As the probe continued a fresh lead surfaced from Vavuniya. Acting on information gathered from persons in custody, a house in Sirima Nagar,Vavuniya was raided. A family of four comprising father, mother and two children aged six and four were taken into custody. Both parents were eastern Tamils residing in Vavuniya and virtual strangers in the area. The two kids were also taken away with the parents as there was no one to leave them with. Later on, the children were handed over to relatives with the consent of the parents.

The husband and wife were both former members of the LTTE. They were from Aayithiyamalai in the Batticaloa district of the Eastern Province and living in a rented house in Vavuniya. The man was Veerasingham Loganathan alias Chiththi. The wife was Maheswari Loganathan. A piece of property adjacent to a shrub jungle had been bought in their name at a place called Thirunaavatkaadu in the Vavuniya region. Plans were in progress to build a house there.

The Loganathan couple told their interrogators that they were living in abject poverty after the war ended. A former LTTE leader had contacted them personally by visiting them in Aayithiyamalai. He had made an offer which they could not dicline. As a result, they had relocated to the North from the East and rented out a house in Vavuniya. They were paid 50,000 rupees a month for rent and household expenses from Santhosham master in Switzerland.

A plot of land in Thirunaavatkaadu had also been purchased in their name. They were to construct a house there and move in when ready. The construction costs too would be borne by Santhosham master but Loganathan had to supervise the construction work. The spot selected was adjacent to a shrub jungle. The idea apparently was to use the house as a covert safe house for operatives to remain in hiding. Arms were to be hidden in the shrub jungle.




THEIVEEGAN
The most valuable piece of information garnered from Loganathan alias Chiththi was the identity of the man who recruited him. The man who made the Loganathan family relocate to Vavuniya turned out to be Theiveegan the mastermind behind the LTTE revival attempt. The name of Theiveegan transpiring in the investigations struck a responsive chord among intelligence sleuths. The name was-well known and security authorities had been on the look out for him for a long time.

Theiveegan's real name is Suntharalingam Gajatheeban. Theiveegan (whose name is also spelled as Deiveegan) was born on May 23, 1979. He is from Manthuvil in the Thenmaratchy division of the Jaffna district.

He joined the LTTE voluntarily in 1995. Among his many nom de guerres and nom de plumes are Theiveegan, Theivan, Navaneethan, Vallan and Devan.
He served a long time as a bodyguard of LTTE Leader Velupillai Prabhakaran and wife Mathivathani. He also obtained a piloting licence and participated in air strikes by the LTTE air wing 'Vaanpuligal'. Theiveegan was reportedly involved in the aerial attacks on Kolonnawa/Kerawalapitiya and Saliyapura, Anuradhapura during the war. Theiveegan is also a suicide cadre who took the Black Tiger oath. He has served in the LTTE intelligence division, the military intelligence division and the elite Radha regiment. He had been a trainer of new cadres too.

After the war ended in May 2009, Theiveegan went across clandestinely by boat from Mannar to India. He established contact with Nediyavan in Norway and moved to South-East Asia. Thereafter he went to Europe and shuttled among many different countries. He then returned to India and was placed in charge of operations in India and Sri Lanka by the Nediyavan group. However Theiveegan enjoyed a cordial relationship with the Vinayagam group also. Theiveegan was believed to have been moving back and forth between India and Sri Lanka on a false passport or by using clandestine 'country' boats.




ELUSIVE
When intelligence reports indicated that Theiveegan was in charge of the Nediyavan faction operations in India and Sri Lanka, Sri Lankan authorities anticipating his presence in the Island were on the alert. Theiveegan however proved to be elusive. His brother living in Britain arrived in Sri Lanka early this year to get married. Security authorities were closely monitoring the wedding thinking Theiveegan may attend but the brother skipped the happy occasion.

Against this backdrop Sri Lankan investigators were sceptical as to whether Loganathan was indeed telling the truth. They very much doubted that the vigilant Theiveegan would run the risk of moving about in Sri Lanka. Besides, there was no record of entry at Katunayake. If Theiveegan had really been shuttling between India and Sri Lanka then it meant he was using a false identity or a 'Kallathoni'. Loganathan and Maheswari were however adamantly certain that it was Theiveegan when shown photos.

Thus the name of Theiveegan (wrongly spelled as Theviyan by some) was also put up as wanted on posters. A picture of the man in air tiger uniform was displayed. It was stated that he had been moving around in the East and North. It was now a case of one set of wanted posters/leaflets for Gobi and Appan and another set for Theiveegan. Soon the authorities began getting fresh information about Theiveegan.

One piece of info was that a house in Koomaankulam in Vavuniya had been purchased last year as a safe-house by Theiveegan. The house had been bought for one million two-hundred and fifty thousand rupees (1.25 million) in the name of Pathmaavathi Mahalingam a 64-year-old widow from Poonagari. 34-year-old Theiveegan and another 25-year-old young woman Vathsala Sahadevan alias Sashikala had posed off as Pathmaavathi's children. The three had been living together in the house pretending to be one family.




CUSTODY
While Pathmavathi Mahalingam is now in custody the young woman who had been using the false name Sashikalaa had left for India in November 2013. Investigations have revealed that she went by air from Katunayake to Chennai. Sashikalaa whose real name is Vathsala Sahadevan is from Vandhaarumoolai in Batticaloa. She was born on October 23 1988.Vathsala alias Sashikala is suspected of being a former member of the LTTE.
Another piece of info received by sleuths about Theiveegan was about a business establishment by the Vavuniya bus stand that he used for his covert activities. This was a store mainly selling sports goods and equipment. The establishment called 'Tata Sports Corner' also provided computer and photocopying services. Telephone calling cards were also sold. Theiveegan using the name Theivan used to frequently visit 'Tata Sports Corner' and communicate through computer and telephone from there. He also met people there.

'Tata Sports Corner' was owned and managed by a teacher from Jaffna named Amirthalingam Thileepan. He had come to Vavuniya in 2005 and had been teaching at several different schools over the years. He had begun the sports store as a sideline and used his influence as a teacher to sell products to school children. Thileepan apparently knew fully well that he was being used as a cover by Theiveegan and fled before he could be arrested. He had left the country for India by air on April 5 this year. The business has now been sealed.

As investigators relentlessly tracked down people involved in the attempt to revive the LTTE it became crystal clear that the powerful dynamo behind the entire exercise was neither Gobi nor Appan but Theiveegan. The 'nouveau' LTTE in its formative stages had a trio at its head. Gobi was in charge of intelligence and Appan was responsible for propaganda. Theiveegan was in charge of strikes or operations. He was also in overall charge of the entire exercise to revive the LTTE. Soon a fresh poster/leaflet with all three wanted persons was put out. Telephone numbers to contact were given. 42,000 leaflets were pasted as posters all over the North.





The Grama Sevakas were asked to identify non –residents of the area. One such person identified as an outsider was a man from Mannar. This turned out to be a prize catch. It was not Gobi but an ex-LTTE cadre called Kanthan. He had worked closely with Gobi



VEDIVAITHAKALLU
This resulted in more information being divulged by ordinary people of the north. The tip-offs received were followed up and checked out. A positive lead was received from the Vedivaithakallu area in the Vavuniya North division. It was reported that people engaged in wood-cutting had seen suspicious movements in the dense forest.

A huge tract of jungle extended from Vedivaithakallu through Oothukkulam to Bogaswewa. One end of the jungle was in the Vedivaithakallu area of Vavuniya district while the other end was in the Padaviya area of Anuradhapura district. It was in this jungle of about 12-15 sq kilometres that the wanted tiger trio had been sighted. A massive military operation was launched on the night of April 10/11. The operation resulted in the Theiveegan-Appan-Gobi trio being killed by the soldiers in a shootout. Since I have already written in detail about how the trio was killed in the Daily Mirror of April 19, 2014 I will not elaborate further on the military operation.

In 2009 February, Theiveegan was asked to relocate from the beleaguered Karaithuraipatru maritime zone in the Mullaitheevu district by Radha regiment chief Ratnam Master. He was sent to the Nedunkerni jungles on a top secret assignment with the consent of LTTE leader Prabhakaran. The assignment was to lay the groundwork in setting up a secret base in the Nedunkerni jungles for LTTE supremo Velupillai Prabhakaran to relocate clandestinely. The idea was for the Tiger leader to move to the East from there and go abroad if necessary. Among the plans in the pipeline was an idea to fly Prabhakaran out by air. Since Theiveegan was both a trained pilot and trusted lieutenant, he was apparently entrusted responsibility for the task.
Such an eventuality never did happen. Prabhakaran found it impossible to penetrate the security cordon and break out from the littoral strip that he was confined to and find safety in the Wanni hinterland. As is well known the LTTE supremo and most of his senior commanders were killed. Meanwhile Theiveegan waited in the Nedunkerni jungles for his leader to arrive. It was during this period that Theiveegan became familiar with this jungle terrain. That was why he was to return to the area five years later with his comrades Gobi and Appan and seek refuge in the familiar jungles. Ultimately he met his end there along with his two comrades at arms.




QUIXOTIC
Thus ended the quixotic saga of an attempt to revive the LTTE. Security officials are still engaged in tying up the loose ends and in mopping up exercises. Many of the detained persons are being released in stages. It is however expected that around 20 - 25 of the arrested persons would be brought to trial in the future. Most of these persons are former LTTE cadres or family members of former tiger members.

Eight army officers, intelligence officials and soldiers involved in the final operation that ended the lives of the top tiger trio were honoured and awarded decorations by the Army Commander. In a separate development Selvarajah Kamalarajah, a soldier who was killed by accident in the exercise was post-humously promoted as Lance Corporal. The army is constructing a house for his family in Kurunegala his native place.

The IGP in a separate ceremony commended the Policemen at Pallai Police station who had detected the men pasting posters. It was this chance detection by cops on a routine Police patrol and consequent inquiries that alerted authorities about the LTTE revival phenomenon. It is indeed ironic that despite the overwhelming military presence in the North,I t was routine Police patrolling that led to the discovery of the LTTE revival attempt. Ultimately the swift suppression of the revival attempt was due to the information received from the Tamil public in the North and not due to the excessive deployment of military personnel. This scenario provides much food for thought!

Despite tiger and pro-tiger elements abroad and their fellow travellers in Sri Lanka trying to convey an impression to the contrary, most right-thinking Tamils in Sri Lanka realise that a return of the LTTE means disaster and doom for the hapless community trying to resurrect itself from the pathetic plight in which it is now. This does not mean that all the people are happy with the Rajapksa regime or supportive of it. It only means that the people have learnt bitter lessons from the past and are averse to an LTTE renaissance in any form in Sri Lanka.




RESURGENCE
The attempted revival of the LTTE in Sri Lanka is an issue to which this writer has devoted several columns in the recent past. It is an issue about which I feel strongly, as the consequences of such an LTTE resurgence would be catastrophic for the country and its people, notably the Tamils. It is indeed troubling to see the cunning efforts by vested interests to dismiss the affair as a 'drama'. As I have stated earlier in these columns, there are many who have not realised what may have happened if the attempt to revive the LTTE had succeeded in a big way. The country is indeed fortunate that the revival attempt was detected early and neutralised effectively.

The past weeks have been quite hectic for me as I was in contact with diverse sources in different countries with the intention of gathering information about this entire exercise. The sources were security related circles, informed Tamil activists, ex-militants, residents of the Wanni, family members of ex-LTTE cadres and analysts from global institutions monitoring terrorism etc. Although the information is by no means complete or compact, I have been able to piece together to some extent an outline of the course of events in this matter. It is against this backdrop that I have written this detailed account about the anatomy of the Abortive Attempt to revive the LTTE in Sri Lanka.

Let me conclude by reproducing a paragraph from a previous article in the 'Daily Mirror' of March 29 2014. This extract may serve as an epitaph to the aborted LTTE revival attempt:

"Hectic events over the past few weeks in Sri Lanka have driven home three salient truths on the security front relating to the Liberation Tigers of Tamil Eelam (LTTE) organisation. The first is that Tiger or pro-Tiger elements in the Tamil Diaspora will persist with efforts to resurrect the LTTE and disrupt life in Sri Lanka. The second is that the Sri Lankan state will effectively respond to such a challenge regardless of international implications. The third is that the strongly entrenched security apparatus in the country is capable of cracking down hard on any such perceived LTTE revival attempt and crushing it".

djeyaraj2005@yahoo.com

---
Add comment

Comments will be edited (grammar, spelling and slang) and authorized at the discretion of Daily Mirror online. The website also has the right not to publish selected comments.

---