---

She is described as a "fairy Godmother," a playful and mischievous rebel and the epitome of beauty, class and elegance by her close family and friends. Carrying the special gift of a fantastic imagination, she is a genius of creativity, design and art. Born out of a love for colours, Batik is her trademark. In fact, she is credited with single-handedly reviving and recreating the traditional Batik industry of the country which was popular in ancient Sri Lanka but had gradually died out during the colonial era. She is Ena de Silva, an enchanting persona and a beloved legend, whose life and achievements should not just be confined to the dusty shelves of a by-gone era.

In the book, 'Gliding the Lily: Celebrating Ena De Silva', compiled by Professor Rajiva Wijesinha and the Lunuganga Trust to celebrate Ena's 80th birthday in 2002, her friends, family, close associates and admirers of her work, reminisce the life and times of Ena de Silva.

Born on October 23, 1922 to Sir Richard Aluwihare, the first Inspector General of Police of Independent Sri Lanka, and Lucille Moonemalle, Ena De Silva is celebrating her 93rd birthday today. Her husband was late Osmund De Silva, who also became an Inspector General of Police on the retirement of her father. She is a mother of two, her daughter Kusum, currently living in United States and her son Anil who unfortunately has passed away.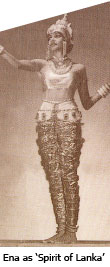 Their magnificent house at no. 5, Alfred Place, designed by legendary Geoffrey Bawa, is worth a mention. According to her nephew Charitha Ratwatte, the house was designed in "traditional Kandyan Sinhala style, blending it in his [Bawa's] unique fashion with a sort of Spanish Hacienda style." It is still considered a landmark building and an exemplary tribute to the talent of world-famous Geoffrey Bawa.

In her life, she came to the limelight in many ways and for various reasons. But one of the most remembered instances is when she starred in the spectacular pageant staged for distinguished guests after the country finally gained independence in 1948. Dressed in a shimmering silver costume complete with a head dress, she was the 'Spirit of Lanka'. Talk about typecasting! This is a true description of her even today.

According to Frieda Jayatilaka, a school friend, Ena was always "artistic and enterprising." In her short essay, she credits Ena with starting her own business, Ena de Silva Fabrics Ltd, while still in her thirties.

After her husband's death, she moved briefly to the British Virgin Islands as Consultant for the Commonwealth Secretariat but upon her return, she moved back to her ancestral home in Aluwihare, from where she truly made her mark. She started the Matale Heritage Centre as a Batik factory in 1964 with just six girls from the village helping her out. With her enthusiasm, passion and dedication, she was able to breathe life into an industry which had virtually disappeared from the island. Her Batiks, with their own unique style, soon became world famous.

She earned the nickname 'Lady of the Banners' thanks to her glorious Batik tapestries hanging from the ceiling of the lobby of Oberoi Hotel (now known as Cinnamon Grand). Another hallmark of Ena is the Batik adorning the ceiling of Bentota Beach Hotel. She also supplied breathtakingly beautiful wall hangings and decorative Batik items to five-star hotels such as Triton and Mahaweli Reach as well as for banks such as DFCC and Seylan. She expanded her horizons and moved on to carpentry and brass-work, with an unwavering vision to put Sri Lanka's traditional arts and crafts on the world map. Her centre also created hundreds of jobs, helping the rural economy and giving a foothold to budding, young artisans in the country.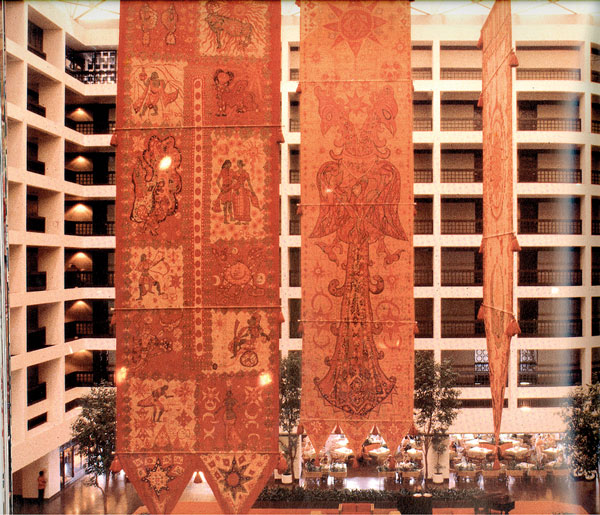 Oberoi (now known as Cinnamon Grand)

According to Professor Radhika Coomaraswamy, Ena embodied feminine power in her work and her style.

"Her feminism was to take the traditional occupations of women and glorify them and to fill them with standards of excellence. Anyone who has tasted the food of Alu Kitchens or feasted on the batiks and fabrics of Alu Tapestries, is quick to realise this is women's work at its best, full of joy and beauty and hard work. Ena took the feminine imagination of the nation, moulded it in her redoubtable style and filled our houses and public places with unique and outstanding works of art," writes Coomeraswamy.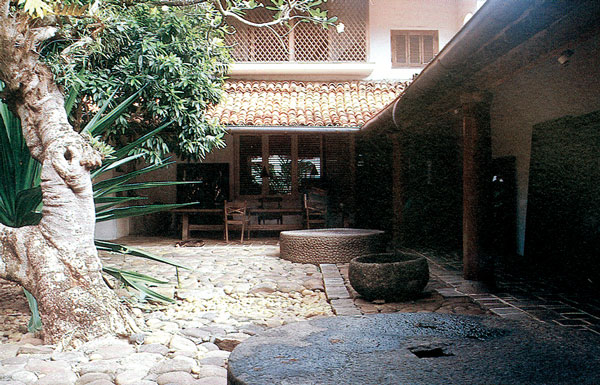 The house built by Bawa

Certainly, Ena was a defining force in Sri Lanka, especially during the 60's, 70's and 80's. She is the quintessence of imaginative creativity, unique style and innovation based on tradition. Her life itself is like the magnificent Batik art she adores so; exploding with vibrant colours, swirled together with incomparable beauty, entrancing charm and a hint of eccentricity and magic.
---
Add comment

Comments will be edited (grammar, spelling and slang) and authorized at the discretion of Daily Mirror online. The website also has the right not to publish selected comments.

---