---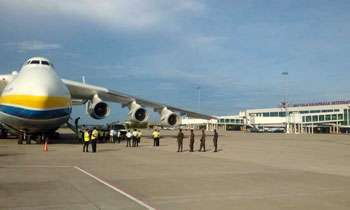 The world's largest cargo aircraft, Antonov An-225 Mriya landed at the Mattala Rajapaksa International Airport (MRIA) this morning, Airport Manager Upali Kalansuriya said.
Speaking to the Daily Mirror, Kalansuriya said the cargo aircraft was being refuelled and that its crew was resting.
"It is iconic to have the world's largest aircraft at MRIA and it is the first time that this type of aircraft arrived in the country. The aircraft arrived from Kuala Lumpur and has scheduled to departure for Karachi, Pakistan 2.00 a.m tomorrow," he said.
The Antonov An-225 Mriya, a strategic airlift cargo aircraft, was designed by the Antonov Design Bureau in the Ukrainian SSR within the Soviet Union during the 1980s. Powered by six turbofan engines, it is the heaviest aircraft ever built and has a maximum takeoff weight of 640 tonnes. The Mriya also has the largest wingspan of any aircraft in operational service.
The aircraft was designed to airlift the Energia rocket's boosters and the Buran orbiter for the Soviet space program. Developed as a replacement for the Myasishchev VM-T, the An-225's original mission and objectives are almost identical to that of the United States' Shuttle Carrier Aircraft. (Chaturanga Samarawickrama)