---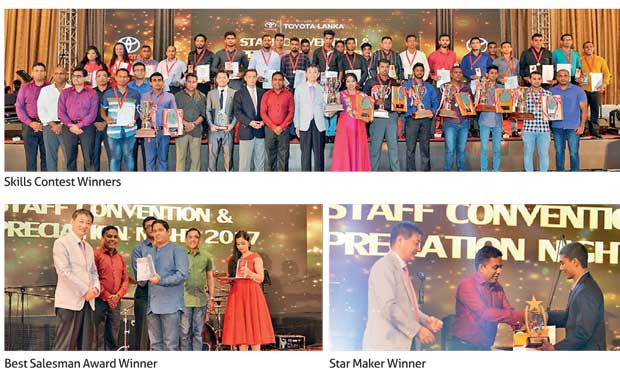 Toyota Lanka (Pvt.) Ltd, the National Distributor for Toyota and Hino vehicles in Sri Lanka, recently held its Annual Staff Convention and Appreciation Night to recognise the outstanding performers of 2017.


The gala event was held on December 23rd at the Shangri-La Hotel, Colombo. The occasion was graced by Toyota Lanka Managing Director Shungo Yoshioka, Director and Chief Operating Officer Manohara Athukorala, Toyota Tusho Asia Pacific General Manager Yasuhiro Miura and more than 1,500 TLPL staff and their families.

One of the main highlights of the event was the launch of the new company vision and mission. The new TLP Vision is 'To become the most respected and admired total auto mobility solutions provider in the country', while the brand new mission looks forward to "Creating delighted lifetime customers and lifetime
delighted employees'.

Speaking at the launch of the new company vision and mission, Toyota Lanka Managing Director Shungo Yoshioka said: "Our auto-industry has come to a very important stage having had gone through an unbelievable twists and turns of its own since the automobile was introduced way back in 1800's and its advent in early 1900's of its mass production in modern open era. With the dynamism unfolding and changes becoming imminent and inevitable, one thing we have to bear in mind, that is changes also brings a boundless opportunities for our business growth and its sustainment when such changes are accepted and embraced in the positive mindset."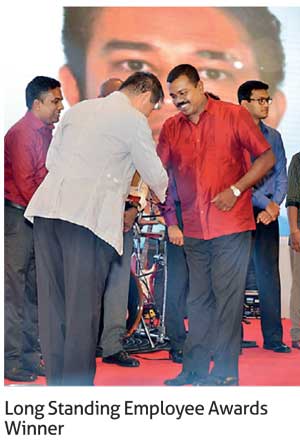 Receiving outstanding performance awards, Toyota Sales division's Manoj Kiriella, Hino Sales division's Nuwanga Dilshan and Toyota Industrial Equipment's Dilina Madusanka won the Best Salesmen Award for their respective divisions. Meanwhile, employees completing 10 and 20 years of service also received Long Standing Employee Awards. Winners of the National Skills Contest organised by the Service department of TLPL in 15 categories were also presented with their awards.
The entertainment for the evening was provided by Toyota Lanka's very own Star Maker Winners. Toyota Star Maker is the talent show of TLPL conducted in the categories of singing, dancing
and instrumental.