---
Recent ban significantly affected people's day-to-day communications and business operations
Govt. cannot be blamed for ban given bitter experiences such as Arab spring

Information Technology Expert Dr. (Eng.) Lalith Liyanage speaks to Daily mirror about the importance of having a controlling mechanism on the social media sites. Dr. Liyanage is the Chief Executive Officer of Lanka Logistics and Technologies Ltd. which comes under the purview of the Ministry of Defence. He shared the following:
Q As an IT expert, how do you see the importance of social media on public life?

I am a chartered electrical engineer and a member of the Institute of Engineers Sri Lanka. I am also a Fellow member and the Vice Chairman of the Institute of Engineering and Technology which is a global network. I did my doctorate in Computing in England. I have a quite bit of experience in this domain for over 22 years.
In today's context, social media communications have taken over all other forms of communications. We had landline telephones, pagers, radio sets, mobile phones, broadcasting technologies etc. Today, social media is so powerful that it has taken over a significant portion of human communications. We use social media sites, mainly Facebook, Twitter, LinkedIn, WhatsApp, Viber, Imo etc for our daily communications in a very cost effective and efficient manner. If you take the communications cost five or ten years ago, we used IDD calls to contact our relatives or friends overseas. It was costly.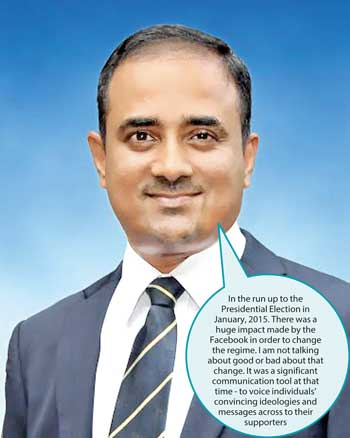 In Sri Lankan context, mobile communication costs were quite high. Yet, today, with these data connections and Voice Over IP protocols, cost has become significantly low. That is why people, mainly use data communications. You can very easily send videos and data files using these sites. The recent ban has affected significantly people's day-to-day communications as well as business transactions. If you take entrepreneurs- small time or big time, tourism agents, travel and trade agents, most of the businesses used to have happened through the social media networks.

For example, we use to communicate with our foreign suppliers or business partners on WhatsApp and Viber which is faster and easier than emails with this ban, we all had to go back to emails as our primary mode of communications. 'Deny' and 'regulate' bear two different meanings in terms of social media (SM). What we experienced in Sri Lanka was the Denying of Service (DoS) in which access to the different social media sites was blocked and such approach hinders the usability of social media in various modern applications. Hence, regulations are necessary for the smooth functioning of Social Media under country's law and order.

The ban on social media happened for the first time in Sri Lanka since its introduction. It was a kind of a shock initially. Then, people started communicating on other media - mobile and emails, analysing, criticizing, and accusing the government. However, it was a timely decision from the government's point of view with the limited capacity to control spreading of hatred racial messages which are mostly fake, bogus and exaggerated.

Even though, taking the advantages of technical lapses, some methods have been used especially by youths for surfing the FB and other SM sites such as downloading so called 'VPNs'. Hence, the ban can be considered as partially implemented. From the side of Law Enforcement Agencies, it has been reported that technical agencies and service providers do not have adequate resources to monitor posts in local languages.

Spreading of virulent and fabricated news, photos and videos posts were drastically reduced after the ban of social sites. Many people who got involved in this have been traced, arrested and a fear of posting, sharing such news and multimedia content was spread over the country.

The move cut access to about six million users, including many hundreds of businesses, self-employed and entrepreneurs, who depend on the platforms for their business. The ban has badly affected the tourism industry, small businesses and others. The continuance of the ban would have economic and social implications. Further, Sri Lanka has been highlighted in world forums as a country with less media freedom and freedom of speech.

The ban has been lifted now. People are back on their normal communications on social media sites. I heard there were even court cases filed against Facebook ban. The ban of social media sites has significantly impacted people's day-to-day life. Ideally, it should not have been banned, instead, a controlling mechanism should have been applied focusing the areas of concern.
However, it was a timely decision from the government's point of view with the limited capacity to control spreading of hatred racial messages which are mostly fake, bogus and exaggerated

Q Why do you say this so?

We can remember the Arab Spring during 2010-2014 period. We can remember how people gathered in masses in order to create problems against the ruling governments. Most of these governments were toppled by the anti-government groups mainly using Facebook campaigns which allowed them to gather at specific times and places instantly without allowing preparatory time for government forces. We know the recent experience in Sri Lanka in the run up to the Presidential Election in January, 2015. There was a huge impact made by the Facebook in order to change the regime. I am not talking about good or bad about that change. It was a significant communication tool at that time - to voice individuals' convincing ideologies and messages across to their supporters. In the run up to the parliamentary elections in 2015, it was again used significantly.

With such experience, the government had no other choices than totally banning them temporarily. Had there been effective controlling mechanisms of social media communications, the things could have been different.

Q How do you ensure effective controlling mechanisms without interfering with the people's private communications?

Regulating social media is not an easy task. It requires the use of technology and introduction of new regulations. These are the two essentials we need to have for the regulation of social media. Both social media and blog posts are today unleashing a trend that has not been seen before. In social media and blog posts there is a growing trend in the use of abusive language. It is true that the right to express our views is a basic human right, but it does not define to what extent a person can exercise this right without hurting the freedom of others. This is the main challenge. You can use abusive language against even the national leaders such as the President and the Prime Minister on social media. This will never happen in print and electronic media.

In print and other electronic media this is well controlled as there is always an owner for any published item/article. But, unfortunately, in the Internet based media and other Social Media communications that ownership is not properly regulated. If each piece of published item clearly shows the ownership (i.e. the publisher) that itself will act as a deterrent in preventing the abusive use of social media and blog posts.

We need a legal framework to regulate this. Technology is available in the world in order to monitor, control and regulate. We call it Lawful Interception (LI). Many governments are enforcing it, adapting lawful interception. That is the effective use of technology.

Q How do you explain it a bit more?

There are technical methodologies. We have something called Deep Packet Inspection (DPI). There are methodologies such IP Blocking, Keyword Filtering and Packet Filtering. These are technologically possible which many governments are using in order to ensure national security and public safety of a country. For this, you need the assistance of the Internet Service Providers controlled by the regulatory authorities like Telecommunication Regulatory Commission of Sri Lanka (TRCSL).

Legally, you need to have a framework. In Sri Lanka, there are a few Acts in force – the Computer Crimes Act No.24 of 2007 and Sri Lanka Telecommunication Act No.5 of 1991 and the Obscene Publication Act No. 30 of 2001. These were the parliamentary Acts somewhat covering these regulatory aspects. Further, there were a couple of Acts like the Penal Code Amendment Act No. 16 of 2006. There, duty of person providing service by computer to prevent sexual abuse of a child. This was amended in 2006. There were two sections in the same amendment saying the computer facilities used to carry an act constituting an offence related to the sexual abuse of a child. It is mainly talking about the sexual abuse or pornography.

What we are talking about today is social media and using abusive language. Even the Computer Crimes Act, it relates to crimes and hacking offences, and also pornography and harassment perpetrated via ICT tools. These acts do not provide necessary enforcements for enactment of regulatory mechanism for law enforcement authorities to act upon national security or public safety related issues.

If you take the Digana incident, the Sinhalese, Muslims or the Tamils would get together and misuse social media by propagating false racial information such that extreme racial groups in other parts of the country could be misled and react aggressively. They get together to create problems. When they do it in Sinhala or Tamil languages, it is very difficult for the internet companies such as Facebook to do some restrictions. For that, we need the assistance of our own internet service providers and technically advanced systems which could do analytics in all three languages. For them to act on lawful interceptions, we need to have a regulatory mechanism. The law should cover whatever the actions the government would take to mitigate, to prevent the impact.

My company, 'Lanka Logistics and Technology Ltd' where I serve as the Chief Executive Officer -- is a 100% Treasury-owned company coming under the purview of Ministry of Defence, and we have initiated a Draft Bill for this purpose.

We call it 'National Security and Public Protection Act on Electronic Communications'. This was drafted back in 2014. With the regime change, we could not pursue it forward. Fortunately, with this incident, Law and Order new Minister Ranjith Madduma Bandara contacted us. We had a meeting and mentioned about it. It is high time that this Bill is enacted as an Act. The Minister promised to arrange a meeting with the Attorney General's Department to discuss this and fine-tune a little bit for discussion in Parliament for enactment. In order to draft this Bill, we had the contribution from Ministry of Defence, the CID representing Ministry of Law and Order, Ministry of Digital Infrastructure, Computer Emergency Response Team of Sri Lanka (CERTLK), and the Legal Draftsman's Department. This Bill is 90% ready. The Law and Order Minister will take it forward with the Attorney General's Department and us with the help of other relevant institutions.

The Bill covers all what we want to cover in electronic communications such as Application and objects, Establishment of an Electronic Communications Regulatory Authority, Procedure for interception, Procedure for censorship, Imposition of added obligations on the service providers to assist in interception and censorship, and offences and penalties. We hope the Law and Order Minister will take this forward. We have proposed to establish an independent authority to carry out these activities as indicated by Minister Harin Fernando last week. You will have technology and people who use social media. There has to be an authority representing key relevant ministries – Law and Order, Defence, Digital Infrastructure - to enact the regulations provided by this act.

Therefore, regulating the social media is possible by introducing new regulations (ownership for every published item, administrator for every blog post, etc,) and installing technology based systems to enforce the regulations. This is not a violation of privacy or human rights. It is necessary to prevent the recurrence of incidents that happened recently.

Having said that, please note that this is not a one-time activity. As the technology advances, especially the rapid advances in Internet based technologies, it is essential to upgrade whatever the technical systems that were put in place.

Q What are the countries that have resorted to interception and censorship?

It is no secret that most of the countries are engaged in monitoring Social Media and other forms of digital communications as revealed by Wikileaks and Edward Snowden.

In most countries Social Media is controlled but this is carried out in a transparent manner so that the users do not feel it. However in extreme cases, countries have banned commonly used Social Media and implemented their own systems which can be controlled. Examples are China, Iran, North Korea, Myanmar, Cuba, Saudi Arabia and Syria. These countries are doing filtering of searches, blocking sites, erasing inconvenient contents and monitoring social media round the clock. They even reroute search terms which they decide as inappropriate. The traffic is forced to go through a central network. The enforcement authority is vested with that power. These are kinds of radical countries. If we are to enforce these kinds of things, it will not match for a country like Sri Lanka where freedom of expressions, human rights etc are important. We have to have a little bit mild regulatory mechanisms ensuring transparency for people's communications. At the same time, we must have lawful interception where it is needed. Then, we can avoid cases like Digana and extreme cases as happened in the Arabic countries.

Today we talk in terms of 'Terabyte' or 'Petabyte' size data volumes. We also talk about Big Data Analytics. The traffic volumes have reached that level and it may seem to be impossible to monitor that amount of digital communications. One prohibitive factor, for countries like Sri Lanka, in implementing such monitoring systems is the COST. However, it is the cost of ensuring peace and freedom through broader terms National Security and Public Safety.

Further, those countries have introduced new legislation to prevent the misuse of Social Media. Even in developed countries social media is monitored by installing monitoring systems either at Gateway level or at ISP level. In some countries it is not only monitored but also archived so that if an incident happens all related communications such as voice and Internet based emails, social media etc, can be replayed and analysed.

They are the United States, some European countries, some of the Asian countries like India. They have enforced lawful interception with adequate technical capabilities and legal provisions.

The US also had two Acts passed in their Parliament - Digital Millennium Copyright Act and the Communication Decency Act. They have strong laws pertaining to social networking sites.
We have to have a little bit mild regulatory mechanisms ensuring transparency for people's communications. At the same time, we must have lawful interception where it is needed. Then, we can avoid cases like Digana and extreme cases as happened in the Arabic countries

Q In social media, people sometimes do not post any hate-filled remarks. They only add a picture. As for the Digana incident, it may have been a picture of a damaged temple or a mosque which roused the anger. How do you control such activities through lawful interception?

In Cyber Security Technology, there are analytics mechanisms. They will analyse not only the contents but also photos and videos. As you know 'A picture can say thousand words'. Experts who analyse have tools to monitor the contents. You may not have a single word written but they are intelligent enough to analyse these pictures and see the underlying meaning. These types of photos can create a lot of problems. They can see the trends of these pictures. It could also be a picture taken somewhere else or some time back to mislead the audience so analysts can identify all these factors. What we need is to convert all these contents into actionable intelligence and make appropriate decisions

We should not forget that Social Media is a valuable source of information as it will provide the State with the current thinking of the public, indications of events that could happen, etc, if this information is properly analysed. Technology for this sort of activities is available but it requires highly skilled analysts to correctly interpret the information to convert it to intelligence.

Q When bringing out such legislations, how do you reconcile freedom of expression and national security aspects?

We have considered all these things. There were two or three lawyers involved including a former Legal Draftsman in drafting the Bill. There were technical experts as well as CID personnel. We have gone into all these aspects. We studied similar acts from countries like USA, UK, Singapore, Australia, India and Nigeria. We also perused the Budapest Convention for Cyber Crime in which Sri Lanka is a signatory. We have nicely covered, freedom of expression, human rights etc., without compromising National Security and Public Safety.

In the countries such as China, Iran and Syria, they have included strong clauses in their legal framework. Their priority is national security. Others are secondary.
Your privacy is secondary than national security or safety, isn't it?

Q Doesn't it give scope for the political parties in power to suppress the dissent for their ends?

In some of the countries, these regulations provide legal coverage to prevent the misuse of systems by the state. The states cannot misuse this power. For example, during an election, the ruling government cannot ban social media for their advantage. Social media is a valuable source of information and should not be banned. The best is to implement a system to monitor the abusive use of it.

There are few technological challenges in implementing a foolproof system as such systems are seen as a threat to human rights or privacy.

It is necessary to formulate a system which will bind the user to real identity as a first step towards ensuring accountability. There would be a lot of criticism for introducing such a mechanism. But, again, it is necessary that we take the right steps to ensure our own freedom.

Secondly, there should be justifiable regulations to restrict the abusive use of Social Media as well as blog posts. The same regulations should provide legal coverage to prevent the misuse of systems by the State. Many countries do this by obtaining the authority through a procedure from the Courts of Law.