---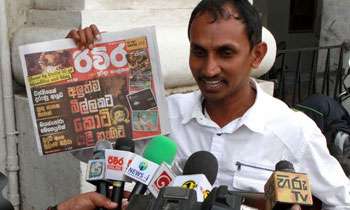 The Terrorist Investigation Division (TID) today recorded a statement from 'Rivira' Sunday newspaper Associate Editor Tissa Ravindra Perera on an ongoing investigation into an article headlined 'Aluthma Billakata Koti Nagitiy' published on June 24.
The TID had questioned him under the Prevention of Terrorist Act from 10.00 a.m. to 2.15 p.m. today.
Mr. Perera had penned the said article based on an intelligence record submitted to the National Security Council, the Tri-Forces Commanders and the Police Headquarters on recovering claymore bombs on June 22 in Oddusuddan.
Speaking to the media, Mr. Perera said he was summoned to the TID as he fulfilled his obligation as a journalist.
"We revealed this based on intelligence reports. The public should be awake if there is any sign of an LTTE resurgence. We have fulfilled our social obligation as journalists," he said.
However, Mr. Perera said he was uncertain whether the TID's pure intention was to prevent him from exposing further information on this incident.
"What we want as journalists is to expose any possible threat. No matter how much we are pressurized, we will continue to use the pen for the sake of national security," he said. (Thilanka Kanakarathna)