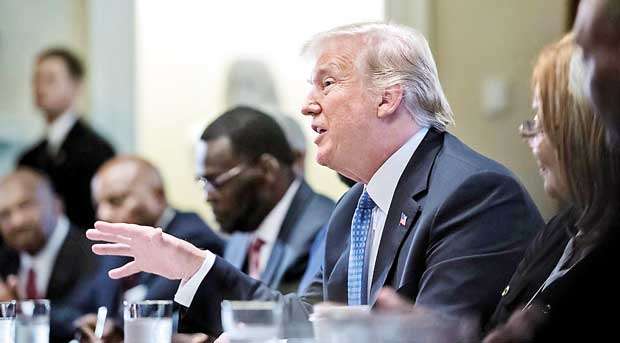 By Carol D. Leonnig, John Wagner, Devlin Barrett (c) 2018, The Washington Post · Aug 02, 2018 -
President Donald Trump on Wednesday urged Attorney General Jeff Sessions to terminate the investigation into Russian campaign interference "right now," forcing his lawyers to scramble to clarify that the president was not ordering Sessions to take a specific action.

Democratic lawmakers and even some members of Trump's own party reacted with alarm to a series of inflammatory morning tweets in which the president called the prosecution of his former campaign chairman Paul Manafort "a hoax" and escalated his attacks on the investigation led by Special Counsel Robert Mueller.

Trump's tweets came at a particularly sensitive time in the investigation, as a federal jury in Virginia is hearing evidence in Manafort's trial on tax evasion and fraud charges.

"This is a terrible situation and Attorney General Jeff Sessions should stop this Rigged Witch Hunt right now, before it continues to stain our country any further," the president tweeted. "Bob Mueller is totally conflicted, and his 17 Angry Democrats that are doing his dirty work are a disgrace to USA!"
In an interview Wednesday, Trump's lawyers said the president was not ordering Sessions to take any specific action with his latest missive.
WASHINGTON
---
Mueller offers to limit investigators' questions for Trump
By Carol D. Leonnig (c) 2018,
The Washington Post Aug 02, 2018 -
WASHINGTON - Special Counsel Robert Mueller indicated this week that he is willing to reduce the number of questions his investigators would pose to President Donald Trump in an interview, renewing negotiations with Trump's lawyers about a presidential sit-down after an extended standoff, according to two people briefed on the negotiations.