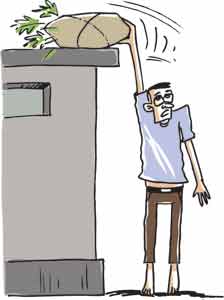 A man from the Yatiyantotat area who tried to set a trap for another person in a bid to take revenge from him, had to finally fall into his own trap and end up in jail.
This suspect had sneaked in a parcel of ganja and left it on the roof of a toilet of his rival and later informed the police emergency about it.
The police acted swiftly and arrested the man who owned the house but after further investigations it was found that this had been done by the suspect as an act of vengeance.
By tracing the caller who informed about this to the police, the suspect was arrested and it was later established that the suspect had brought the parcel of ganja and left it there.
The suspect was arrested and produced in courts.