---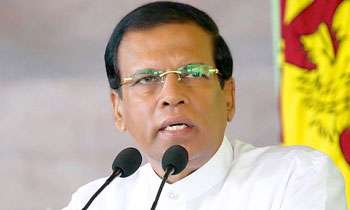 President Maithripala Sirisena said today that he offered the premiership to Speaker Karu Jayasuriya first and then to UNP Deputy Leader Sajith Premadasa before considering former President Mahinda Rajapaksa for the post of Prime Minister.
Addressing a public rally named 'Rata Surakina Jana Mahimaya', he said the UNP MPs who met him during the past few days asked him why Mr. Rajapaksa was appointed the Prime Minister contrary to the aspirations of UNPers as they were the ones who installed him as the president in 2015.
For the first time in four years, he appeared on the same stage with Mr. Mahinda Rajapaksa yesterday at this rally in Battaramulla.
He said he met the Speaker eight months ago and insisted that he take over premiership.
"I pleaded with him for several days to become the Prime Minister because I could no longer work with Mr. Ranil Wickremesinghe as the Prime Minister. But, he declined to accept the post citing his inability to pose a challenge to Mr. Wickremesinghe," the President said.
He said he approached Mr. Premadasa two months ago and offered the premiership to him but Mr. Premadasa also declined to accept it citing his inability to stand up to the leadership of Mr. Wickremesinghe.
By sacking Mr. Wickremesinghe from office, he said he not only brought about a change of personalities but also a political programme that was attuned to the interests of external forces and against the cultural ethos of Sri Lanka.
The President said he appointed Mr. Rajapaksa as Prime Minister as he was familiar with the local value system and formidable enough to outsmart Mr. Wickremesinghe in politics.
Commenting on the government's activities during the past three years, he said the decisions were taken by a 'Samanala gang' not by the Cabinet. He said the new government had secured the required simple majority of 113 MPs to govern the country and asked Speaker Karu Jayasuriya to cooperate with him. Also, he said he sacked Mr. Wickremesinghe from office through lawful means and asked the Speaker to respect his decision.
"I never take my decisions single handedly. I consulted all concerned. The removal of the Prime Minister and the appointment of Mr. Rajapaksa were done lawfully. If there is anyone grieved by it, the Supreme Court can be petitioned," he said.
The President said new Prime Minister Mahinda Rajapaksa, upon assumption of duties, met the Mahayanayake Theras and the Cardinal, worshiped at Jayasirimaha Bodhi and Dalada Maligawa whereas Mr. Wickremesinghe was worshiping foreign ambassadors. The President vowed not to take a step back from the action he had taken. (Lahiru Pothmulla)
Video by Damith