---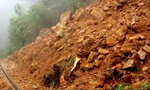 More than half the area of the Badulla District was vulnerable to landslides, National Building and Research Organisation said following a recent survey.
"66.91 percent of the land area in the Badulla District is endangered with landslides," the NBRO said.
Badulla Government Agent Nimal Abesiri told a meeting of the District Disaster Management Centre that 79.32sq.kilometres, which was 2.77 percent of the land area, had been identified as high risk area.
He said according to the survey 16.37 percent of the land was medium risk area, and 47.76 percent minimum risk area.
The GA said only an area of 942.92sq.kilometers, which constituted 32.95 percent of the total land area, was safe.
The GA said that the cartography project undertaken by the National Building and Research Organization was in a slow pace due to the delay of receiving relevant information from the divisional secretariats.
However, the Divisional Secretaries pointed out that the residents of the endangered areas were reluctant to provide required information in fear of being losing their traditional habitats.
The GA instructed the officials to launch a public awareness campaign to explain on the programme.(Palitha Ariyawansa)