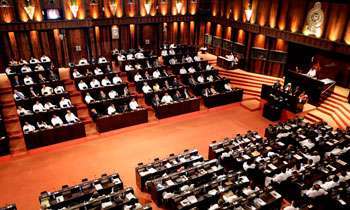 Speaker Karu Jayasuriya today announced that the no-confidence motion brought in against Prime Minister Mahinda Rajapakse and the Government passed in Parliament.
However, the United People's Freedom Alliance (UPFA) of Mr Rajapaksa declined to accept the Speaker's ruling.
After the Supreme Court issued a Stay Order suspending the dissolution of Parliament, it was reconvened yesterday.
Secretary-General of Parliament Dammika Dasanayake read out the Statement by President Maithripala Sirisena as it was a ceremonial sitting after a period of prorogation.
Meanwhile, Tamil National Alliance (TNA) MP M.A. Sumanthiran, referring to Standing Order 135, asked for the suspension of the Standing Orders to carry out the businesses for the day according to an agenda to be decided by the House on the same day.
The leader of the House Dinesh Gunawardane said everyone, including the Speaker, was bound by the Constitution.
He said the Standing Orders could be implemented only in conformity with the Constitution.
"After reading out the President's statement, only the adjournment of the House is scheduled for the day," he said.
Despite his repeated requests, a vote was taken for the suspension of the Standing Orders.
It was hurriedly moved by Mr Sumanthiran to be seconded instantly by JVP MP Vijitha Herath.
The suspension of the Standing Orders enabled JVP MP Anura Kumara Dissanayake, who moved a No-Confidence Motion (NCM) against Prime Minister Mahinda Rajapaksa on the basis that his appointment of October 26, 2018, was not constitutional.
Mr Herath seconded it, and then the Speaker asked for a roll call amidst the chorus of protesting shouts by the Government members.
Housing Minister Wimal Weerawansa said nowhere in history had a No-Confidence Motion been taken for a vote in this manner.
"Once a motion is handed over, it has to be placed on the Order Paper. Then, a date has to be agreed upon by the party leaders for the debate. We have never seen the procedure being flouted in this manner," he charged.
While the Government members persisted with their bout of shouts against the moving of the motion, the Speaker proceeded with the vote.
All Opposition MPs stood up in favour of the motion.
As there was no call for a division by the Government side, the Speaker declared the motion passed by voice vote.
Also, he announced that the new Government had no Parliamentary majority.
The UNP MPs were wearing black Satakaya, which said, For democracy.
Two MPs Manusha Nanayakkara and Piyasena Gamage crossed the floor of the House before the vote and joined hands with the UNP amidst applause from its MPs.
Besides, MP A.H.M. Fowzie, who joined the UNP earlier, remained seated with the Opposition right from the beginning.
During the vote, some Government MPs, including Prasanna Ranaweera, Padma Udayasantha Gunasekera, Sanath Nisantha and Janaka Wakkumbura rushed to the Well of the House and shouted at the Speaker calling him the most partisan Speaker Sri Lanka ever had.
Some UNP MPs such as Chaminda Wejesiri tried to run into the Well to confront them. But, he was prevented from doing so by UNP MP Dr Harsha de Silva ostensibly fearing that any untoward incident would reflect badly on them internationally.(Kelum Bandara and Yohan Perera)
VIdeo by Indika Sri Aravinda