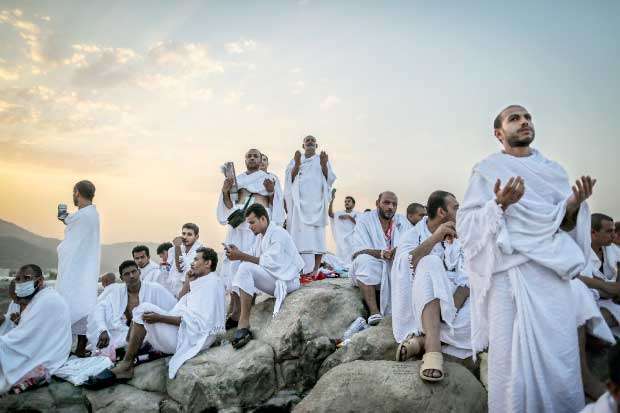 Eid-Ul-Adha is the festival of sacrifice, celebrated around the globe each year at the conclusion of Hajj performance in Mecca, preferably on the 10th Day of the month of Zul-Hajj.
It is a commemorative festival in reminiscing about the episode of Prophet Ibrahim (PBUH) endeavouring willingly to sacrifice his own son as an act of obedience to Allah's command.
Subsequently, the Prophet was astonished to see that his son was unharmed and instead Prophet Ibrahim (PBUH) was provided with a goat by Allah, to be sacrificed.
This significant and glorious occurrence and the endeavour are celebrated and honoured on this day by the Muslims the world over.
In coinciding with this renowned and distinguished circumstance, Muslims all over the world sacrifice goat or cattle and distribute among the poor, relatives, friends and family members.
Hajj pilgrimage is one of the most significant concepts in Islam, where an enormous gathering of different nations and different colours, assemble at the Holy City of Mecca to perform this consequential obligatory act.
Islam does not presuppose man as an infallible
Hajj pilgrimage is one of the most significant concepts in Islam,
Man buoyantly and joyfully spends his hard earned money in accordance with Allah's directions.
Performing Sai Safa and Marwa, stand as another important ritual.
The Holy Quran reveals:
"Behold! We gave the site, To Abraham, of the (Sacred) House, (saying); Associate not anything (in Worship)With Me; and Sanctify My House, For Those who compass it round, or stand up, or bow, or prostrate themselves therein in prayer" (Holy Quran 22; 26-29)
The Holy Quran has commanded extensively subscribing about the House of Allah (The Kabah) and its credentials, how Prophet Ibrahim (PBUH) declared and announced the pilgrimage on the direction of the Almighty and responded to it down the ages, the benefits of the pilgrimage and how it represents the essence of all other acts of devotional worship in Islam, especially the spirit of piety and surrender to Allah, disseminating every aspect of pilgrimage.
The Quranic revelation further emphasizes placing pilgrimage in its historical contexts.
Prophet Ibrahim (PBUH) constructed (The Kabah), the House of Allah, at the site identified by Him, in its special Sacred Status.
As for maintaining its pure and Sacred Holiness, the directive has both a literal and a figurative sensation, clear of all material and spiritual obscenity and corruption for the purpose of true worship of the universal God.
Thousands of years ago, long before the era of the press post, the telegraph, the wireless, the radio, television and other such equipment and apparatus of modern publicity and propaganda, that mankind has been responding to during all these centuries, by performing the pilgrimage in their tens, hundreds and thousands every year.
Man buoyantly and joyfully spends his hard earned money in accordance with Allah's directions. So doing, he enthusiastically places divide rulings above his interest.
This Islamic stance is part of its broader scheme of things, according to which man is only a trustee, with some possessions placed under his charges such as his body, his physical and intellectual faculties and potentials and his earnings.
Man is liable to err and forget divine guidance. However, a more important factor is that he should be conscious of all this weakness and repent as soon as he realizes the lapses committed by him.
Islam does not presuppose man as an infallible creature, who does not do any wrong.
Performance of Hajj provides an opportunity to pilgrims, to observe and perceive the benefits by augmenting numerous and varied accomplishments in sectors of religious, financial, social, political and intellectual.
Consistently, Prophet Muhammad (Sal) communicated that on accomplishing Hajj, a pilgrim is akin to a newborn baby, in being pure and sinless.
At the outset of the Quranic verse prescribing "Hajj and Umrah", man is clearly told that he should perform all these for Allah alone. (Holy Quran 2"196).
This assertion stems from the distinct strain of pure, unadulterated monotheism in all acts of worship in Islam.Sacred sites associated with Hajj are Makkah, Arafat, Muzdalifuh and Mina.
Yet, a pilgrim's attention must be focused on Allah only. Gender by the same spirit the pilgrim should perform Hajj rites in the manner laid down by Almighty Allah.
Moreover, each night of Hajj is characterized by many benefits which have both functional and catalytic value. Performance of Hajj rites commences after access into the State of Ihram.
Man is liable to err and forget divine guidance. However, a more important factor is that he should be conscious of all this weakness and repent as soon as he realizes the lapses committed by him.
The clothing of Ihram makes one realize paradoxically both the importance and worthlessness of clothes of which one is habitual since birth. Pilgrims dressed in frugal Ihram display the essential uniformity of mankind, cutting across distinctions of social class, financial status and ethnic origin.
The strong individuality exhibited, rather reinforced by one's preferential clothes, is instantly replaced by the awe-inspiring unity of mankind with one of the millions of Pilgrims, assembled every year during the period of Hajj.
More importantly the donning of Ihram places certain restrictions on a person, refraining from sexual relations with one's wife in hunting or applying perfume etc.
Talbiyah chanting is a significant sequence for the pilgrim, where it helps to discover the true image, by completely surrendering himself to the Supreme Lord.
Circumambulating around the sacred Kaabah (Thawaf) broadens and reinforces the pilgrim's spiritual benefits, which act is the most significant observance in performing Hajj or Umrah.
Performing Sai (swift walk) Safa and Marwa, stands as another important ritual.
Standing near Kaabah, praying at the spot on which the Prophet Ibrahim (PBUH) had once stood, visiting the Zamzam Well and drinking its water, are all being part of procedures of Hajj that helps the pilgrims to re-enact the Sacred History.
History bears testimony to the fact that Muslims as a community have demonstrated numerous instances of solidarity, cutting across barriers of race, colour or language, and achieved commendable accomplishments.
The epitome of social equality as professed and practised by early Muslims was the key to the phenomenal spread of Islam across all parts of the globe. The most significant cause for this phenomenon was that the exploited and deprived staggering from crisis to crisis, under a yoke of bondage, saw Islam with its teachings and practice of equality and fraternity on their champion and warmly embraced it in large numbers. When performing Hajj, the pilgrim imbibes the spiritual experience flowing from the philosophical and theoretical framework of the Prophets Ibrahim (Alai), Ishmael (Alai) and Muhammad (Sal) and Hajara (Alai). Every one of them represents an illuminating paradigm model of wholesale surrender to Allah's Will and of steadfastness characterized by determined resolution and undoubting courage in following the path prescribed by Him.
Staying in the valley of Arafath is another important rite of the pilgrims.
Millions of pilgrims display the homogenization of the purpose of the journey and of status, where it brings to mind immediately the Grand Assembly before Allah on the Day of Judgment when each and every human being will be recompensed in proportion to the record of his/her deeds.
Hajj embodies the virtuous inclination of the pilgrim's will. It thus serves as an excellent opportunity for dignifying and sublimating a person's emotions and sensation.
Indecent indulgence and wicked acts, whether privately or publicly, outrages the moral health of society and hence constitutes a serious wrongdoing and injustice to fellow human beings.
The young especially, are prone to be so afflicted. It perhaps amounts to stating the obvious that a society teeming with vices cannot enjoy peace and happiness. Sustainability and substantial reconciliation can be attained only if we nullify and annihilate the immoral characteristics.
The convergence of pilgrims from all parts of the world representatives of vast social economic catchment areas, provide pilgrims with many associated benefits.
Acquaintance and social contact with fellow believers revitalized the sense of community with solidarity and open up avenues for trade and commerce. Throughout the history, this institution of Hajj has continued to serve as the major unifying influence in Islam and the most effective common bond among the diversified and distinct believers. It renders every pilgrim a physical healthiness, at least once in a lifetime by circumambulation.
Allah is to be glorified and thanked for His imparting guidance to man.
-The writer is a Retired School Principal