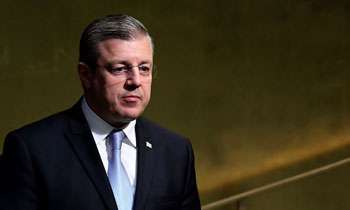 The prime minister of Georgia resigned on Wednesday, citing disagreements with Bidzina Ivanishvili, the founder of the governing party and the country's richest man.
The resignation of Prime Minister Giorgi Kvirikashvili was announced in the wake of a series of antigovernment protests that have disrupted Tbilisi, the capital.
"We have had a number of fundamental disagreements with the party's leader over the past months," Mr. Kvirikashvili, who has headed the government since 2015, said in a televised briefing, without going into details. "Today is the moment when the party's chairman should have the opportunity to form a team on the basis of his own views."
In May, Mr. Ivanishvili announced his return to politics in Georgia, a former Soviet republic in the southern Caucasus Mountains between Russia and Turkey. Mr. Ivanishvili, a businessman, was elected chairman of the governing Georgian Dream party, which he had founded.
After the collapse of the Soviet Union, Mr. Ivanishvili made billions in the Russian banking and metal industries. In 2012, he founded his own party in Georgia, which defeated Mikheil Saakashvili's United National Movement in a parliamentary election the same year. Mr. Ivanishvili became prime minister, only to step aside in favor of a longtime business associate, Irakli Garibashvili, in 2013.
With his fortune estimated at about a third of Georgia's gross domestic product, Mr. Ivanishvili was believed to control the country's politics from his futuristic palace, which sits atop of one of the hills overlooking Tbilisi.
In a speech at his party's convention, which elected him chairman in May, Mr. Ivanishvili cited economic underdevelopment, disagreements within his party and the hostility of his opponents as reasons for his re-entry into politics.
Olesya Vartanyan, a Tbilisi-based analyst with the International Crisis Group, said both Mr. Ivanishvili's return to politics and the protests were related to diminished public trust in Georgia's government.
"The Georgian government has been in crisis for quite a long time," Ms. Vartanyan said. "Mr. Ivanishvili's comeback and popular protests are just symptoms of this process."
One wave of protests was provoked by the murder of two teenagers, who were killed in a knife fight in central Tbilisi last December. Zaza Saralidze, the father of one of the two 16-year-old boys, accused the country's prosecutors of a cover-up to protect the assailants.
Since the end of May, Mr. Saralidze has been leading demonstrations, setting up tents in front of Parliament and periodically blocking Tbilisi's main thoroughfare. The country's prosecutor general was forced to resign, but the protesters demanded the resignation of the prime minister as well.
Earlier in May, Tbilisi was the scene of a different kind of protest. Thousands of young people gathered in front of Parliament to protest against a heavy-handed antidrug police raid on two nightclubs in the capital.
That time, however, instead of just shouting political slogans, the protesters also danced to techno music, turning a rally into a party. (NY Times)