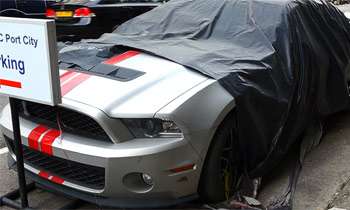 The controversial Ford Mustang which was reportedly imported by MP Namal Rajapaksa, was today returned to its current owner by the FCID.
The vehicle was under FCID custody for more than two years after it was seized from Kaduwela in 2016.
Counsel Premanath C. Dolawatta who appeared for the owner said the FCID had not arrested a single suspect in connection with the case.
"This vehicle was bought by MP Namal Rajapaksa on a permit issued to him in 2010. Later, W.M. Shanthini bought the vehicle for his son Harshana Silva. When the vehicle was being repaired, the FCID seized it and in a futile attempt linked it to Namal," he said.
The counsel thanked the Kaduwela Magistrate for ordering the FCID to return the vehicle to the current owner.
Meanwhile, Harshana Silva said the FCID had questioned all his family members and even friends about the car which he had legally bought. "We went through a period of severe mental harassment," he said.
Video by Buddhi