---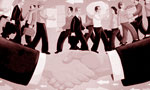 A draft of the much-awaited National Trade Policy had been given yesterday to the Government Medical Officers Association (GMOA) for their opinion, by International Trade Minister Malik Samarawickrama.
Calling a media conference at GMOA Head Quarters, Colombo, GMOA Spokesman Dr. Samantha Ananda said they were in receipt of the draft and that they had been asked to give opinion.
The members of the GMOA, who were surprised to have witnessed the draft of National Trade Policy as the first professional body, have asked more time from Minister Samarawickrama to study its pros and cons in order to present their stance on the draft.
The draft, formulated by a seven-member committee headed by international economist Dr. Ravi Ratnayake, provides a strategic trade policy framework for Sri Lanka, made from modern trade theory, new global trading environment and experiences of the countries that used trade as an engine of growth, development priorities.
It also outlined the economic agenda of the new government, availability of resources and socio-economic conditions of Sri Lanka, a set of sound trade policy principles, policy instruments, criteria for entering into trade agreements, the process and guidelines for policy and institutional coherence as well as an implementation plan with a set of immediate actions, the source said.
Dr. Ananda claimed that the draft was formulated by the same group of professionals, who were involved in drafting the 'loss-making' Indo-Sri Lanka Free Trade Agreement (ISFTA) and they had no accountability and responsibility in the proper implementation of the national trade policy.
"Therefore, we propose Minister Malik Samarawickrama to appoint a Presidential Commission to constantly monitor the implementation of the National Trade Policy. He agreed with us and assured that he would inform President Maithripala Sirisena to take necessary steps," he said. (Piyumi Fonseka)