---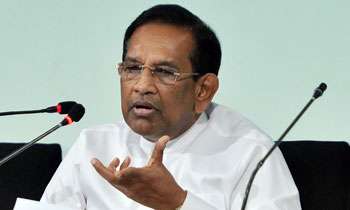 The government would decide on fuel prices in the domestic market on the 10th of every month after taking into account the fluctuation of fuel prices in the global market, Cabinet Spokesman, Health Minister Dr. Rajitha Senaratne said.
However, private bus operators will not be permitted to increase bus fares accordingly because a hike in bus fares took place recently which was for a period of two years, he said while addressing the weekly Cabinet news briefing yesterday.
"If private bus operators and other traders want to increase their prices following the increase in fuel prices they also need to align the cost of their goods and services to the pricing formula the government came up with for fuel which requires them to reduce prices when fuel prices come down and vice versa," Minister Senaratne pointed out.
A review committee would be set up at the Finance Ministry comprising representatives from the Finance Ministry, Petroleum Ministry, Presidential Secretariat and Cost of Living Committee with the task of reviewing global oil prices on the 10th of each month and fixing the fuel prices accordingly.
This mechanism will help to minimize losses at the Ceylon Petroleum Corporation (CEYPETCO) and lessen the burden on the Treasury. However, the Treasury will continue to absorb any extra liability in an event of an unexpected sharp increase in global oil prices, Minister Senaratne stressed.
"It should be stated that CEYPETCO still sells a litre of kerosene at a loss of Rs.14. However, global fuel prices have been steady in the past few weeks and I expect a further reduction in fuel prices in the global market in the days to come.
If there is a significant reduction in the price of fuel in the international market, the government would definitely pass the benefit of that to consumers," Minister Senaratne stressed. (Sandun A. Jayasekera)