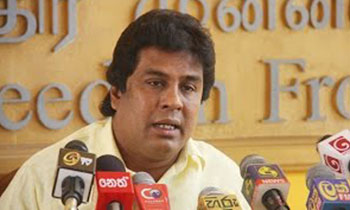 The recent sporadic incidents of violence had been created by a well-known gang with government patronage, National Freedom Front (NFF) National Organizer, Jayantha Samaraweera said.
He said it was a deliberate act of the government to create turmoil in the country with the intention of diverting the people's attention from the prevailing political and economic instabilities.
"It is a well known secret as to who is involved in creating communal violence in the country. We are ready to disclose the truth in Parliament if a special Parliamentary session will be convened, considering the prevailing unrests," MP Samaraweera said.
He said the government was attempting to act according to the whims and fancies of foreign countries including the USA and India by creating unnecessary issues in the country.
He said the International Convention on Protection of Persons from Enforced Disappearances Bill which was passed in Parliament on Wednesday, was not applicable and lawful.
"The provisions of the constitution are sufficient to penalize those who are involved in the disappearances. But by having extra laws means that the government is acting according to the aspirations of the Tamil Diaspora," he added. (Sheain Fernandopulle)