---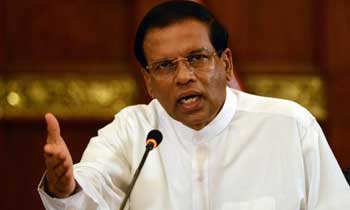 Addressing the last SLFP rally for the forthcoming local government elections held today (7) in Polonnaruwa President Maithripala Sirisena said he does not wish to form a government with corrupt politicians from any party.
While stating that he left the Rajapaksa Government in 2014 due to fraud and corruption, President Maithripala Sirisena today said he was surprised at the way the incumbent Government was behaving.
President Sirisena said had decided not to form a Government with fraudsters. "I have taken a clear policy decision not to form a Government with such parties-be it the former regime or the present one," he said.
He said his plan after leaving the Mahinda Rajapaksa government in 2014 was to engage in clean politics. But I became disillusioned after the new government was formed to see what was taking place in the highest echelons of power and this has made me even more determined to form my own government that does not include corrupt politicians, the President said.
He thanked the people of Polonnaruwa for attending the final rally of the SLFP in such great numbers and said no one from outside the Polonnaruwa District was brought to the meeting.
It is the people of Polonnaruwa that I owe so much for my journey into politics. You are all gathered here to ensure a massive victory for the SLFP and the UPFA at the February 10 local government election, he said.
First we have to identify the problems we are facing today. The UNP's election theme is "let us develop the village". Mahinda Rajapaksa wants people to vote for them in order to protest against the present government's inability to manage the economy and the country.
But as SLFPers we ask for your vote to develop the country and the village with a well disciplined, cultured generation of politicians.
He asked the people to vote for the party and to support the SLFP as it works for a better future. Our symbol for Polonnaruwa and several other districts is the hand. In Colombo and the Badulla District the symbol we are using is the betel leaf. In the hill country we are affiliated with Mr. Thondaman's party and contest under the symbol of the rooster. In the east the SLFP and Mr. Attaullah's party contest as an alliance and our symbol is the horse.
During my recent visit to Jaffna the Tamil people and the Muslims expressed their support for our victory, the President said. He requested the whole country to rally round him to help him fight corruption and develop the country. (K.G. Karunaratne)