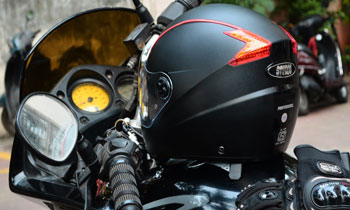 The Ceylon Motorcyclists' Association (CMA) on Friday complained to the United Nations International Children's Emergency Fund's (UNICEF) Sri Lanka office and the International Monetary Fund (IMF) citing that the recent gazette issued by the government imposing a full face helmet ban had restricted the motorcyclists' right to safety.
Writing to the UNICEF State Representative Tim Sutton and the IMF Managing Director Christine Lagarde, CMA had noted that the government had failed to provide a solution to the matter which they were originated.
CMA Secretary Chirantha Amarasinghe told the Daily Mirror that they decided to complain to the UNICEF as the ban would result in the reduction of importation of helmets for children, risking their lives.
He also said they wanted to point out to the IMF the money that is going to be wasted in the form of treatment to the victims of accidents due to the ban.
Amarasinghe alleged that President Maithripala Sirisena's silent policy on the matter had aggravated the situation.
"We have brought the matter to the President's notice soon after the new gazette was issued, but little action has been taken regarding it," he said.
"In a study conducted by the Police Department on the Motorcyclists' deaths in the year 2014, it was reported that no motorcycle users with full face helmets had died from head injuries whereas 457 out of 569 (69%) with open face helmets had died from head injuries," he claimed. (Thilanka Kanakarathna)