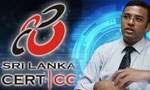 The Computer Emergency Readiness Team/Co-ordination Centre (CERT|CC) had received 1,100 complaints regarding social media issues and ten complaints on fraudsters attempting to hack email accounts of businessmen and lure them into making remittances since January this year, Principal Information Security Engineer Roshan Chandragupta said.
He said that facebook users must take extra care to ensure their safety and security on cyberspace, especially when publishing their photographs," he said.
"It is safer to publish photos under the 'friends only' category," he said.
"Users of fb should keep in mind to add only those personally known to them and to avoid accepting friend requests from those of unknown origin," Mr Chandragupta said.
He said CERT had reported most cases to Facebook Headquarters. Mr Chandragupta said most of the complaints were made by genuine users of Facebook accounts, saying that their names and photos were used to create fake Facebook accounts.
Meanwhile, Mr Chandragupta said ten people had fallen prey to one of the latest scam techniques, where people's accounts were hacked. He said these individuals were requested to change their bank account details.
Mr Chandragupta requested people to be vigilant about what was said during email conversations and to update usual contacts with the recipients' home telephone numbers.
"There were some who felt suspicious over incoming emails. They had made telephone calls to the relevant recipients or the companies about the suspicious emails and managed to save their money," he said.
"People should keep in mind to read the contents of their emails. The email addresses cannot be duplicated but making small changes such as changing a letter can make email addresses look similar to the original," he said.
Mr Chandragupta said some people checked their emails after the goods ordered were not received and called the telephone numbers they had contacted earlier, only to realise that they were hoax numbers and that their money was gone for good. (Chaturanga Samarawickrama)