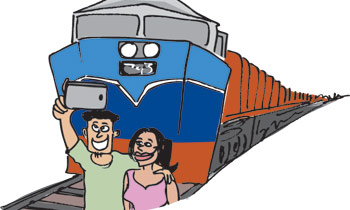 Tragedy struck a newly-wed couple when the 24-year-old groom was killed and his bride seriously injured when they tried to take a selfie photograph on the railway track at Kahawa, Uduwaragoda area in Ambalangoda
Ambalangoda Police said the newly married couple was living in Maharagama as they were employed there.
They had visited their families in Ambalangoda when they met with this tragic accident.
The two were knocked down by the Galle-bound train on Sunday killing the man instantly. According to hospital sources, the condition of his wife is said to be out of danger.
According to eye witnesses, the couple had ignored warning signals given by the people in the area saying that, the train was coming. (M. Sunil Priyantha)