---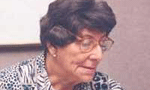 Renowned poet Anne Ranasinghe, who escaped from Nazi Germany to England and became a Sri Lankan citizen in 1956 after marrying a Sri Lankan professor, passed away last Saturday at her residence in Rosemead place.
Ms. Ranasinghe was born on October 2, 1925 as Anneliese Katz in Essen, Germany became a legendary figure in Lankan literary circles purely because of her talents, versatility and her concern for the wellbeing of society. She is generally accepted as one of Sri Lanka's leading poets in English,having won several international awardswas known here and abroad, particularly in Germany.
A German-born Jewess, she had lived in Sri Lanka for more than 50 years. She was married to the late Professor D. A. Ranasinghe, an Obstetrician and Gynecologist.
As a teenager in her native Germany, Anne experienced the tyranny and the holocaust under the Nazis led by Adolf Hitler. and the Nazis. In England, she trained to become a nursing sister and took an interest in English literature earning a Diploma in Journalism.
Among her poems, 'A Long Hot Day', 'The Sun That Sucks the Earth to Dry,' published in 1971, 'A Birthday In Autumn' became famous. Some of her work was used as a part of the curriculum for several degree courses in several universities in the country. She is a founder member of 'Writers Cooperative of Sri Lanka and was an editor of its journal.
Her Funeral will take place on Wednesday at 5.00 pm at the General Cemetery Kanatte. (Yohan Perera)