---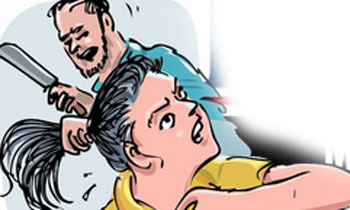 A fifty-one-year old man, who had discovered two missed calls on his 47-year-old wife's mobile phone, had gone into a rage cut off a part of her hair in anger and then proceeded to strip her naked before striking her with an axe, thereby causing her severe injuries. The man was arrested and ordered to be remanded till tomorrow (7) by Gampola Magistrate Chandani Meegoda.
The injured woman was admitted to the Gampola Hospital, police said. The suspect is a resident of Rathmalkaduwa in Gampola.
He was a mason bass and was suffering from a back injury he had incurred after falling from a scaffolding.
It was revealed that since his injury he had been very careful to stop his wife, who was quite a good looking woman, from wandering too far away from home. He also took pains to check her phone for calls from people he did not know and when he saw the two missed calls he completely lost it.
He was said to have got into an argument with his wife over a missed call she had received and this had led to him physically abusing her, compelling her to leave the house and go over to live with her married daughter in Rathmalkaduwa.
He had then gone over to his daughter's house to ask his wife for a divorce. He had later hacked her with an axe.
Following the incident he had left the area to avoid being captured by the police who never-the-less arrested him from his hideout in Gampola.(Suranga Rajanayaka)