---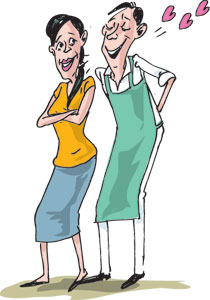 A beautiful young lass accompanied her sick father to a reputed hospital in the Uva Province.
A hospital attendant who met them at the entrance, was entranced by the beauty of the young woman. Her smile and poise shown by her was very inviting and he hastened to help her father to get to the surgical unit and back with glee and was even obliging enough to get him something to eat from outside in order to get on his daughter's good books.
In due course a strong friendship developed between the young woman and the attendant. After about a week the patient was discharged from hospital. The girl thanked the attendant profusely and even offered him her phone number to contact her.
A few days later he proceeded to call his new love interest. He said "Shall I come to visit you, we can go and worship at Kataragama? Having received a yes he lost no time in packing his bags and heading over to the address she had given him. Apparently it was not just she that was eager to meet the young man. Her father was also waiting to thank the man who made his time at the hospital a bearable one. After exchanging pleasantries and thanking him once again the girl's father left the two love-birds to themselves.
The young man invited his new love interest to join him to worship at the Kataragama Devale. She declined the invitation and suggested that he goes on his own. Disappointed by her coldness he spent the rest of the day walking around town without visiting the Devale and at nightfall he returned to the young woman's house expecting to be asked to spend the night there. He was disappointed as she suggested that he stays at a hotel nearby. He was bemused, but having no alternative opted to occupy a room at the hotel suggested by her.He assumed that she would pick up the tab for the hotel and proceeded to enjoy the comforts of the hotel including food and drink. He attempted to call her mobile in order to continue with their 'love chat'. However, to his surprise, her phone had been disconnected.
In the morning he heard a knock on his hotel room door and expecting it to be the young woman he opened the door with much anticipation, only to be greeted by the sight of the waiter of the hotel presenting him with the bill amounting to Rs 4000. Luckily for him he had just received his pay packet and was able to settle the bill or he would have had to spend some time in jail. Cursing his bad luck he went back home heartbroken. (Palitha Ariyawansa)