---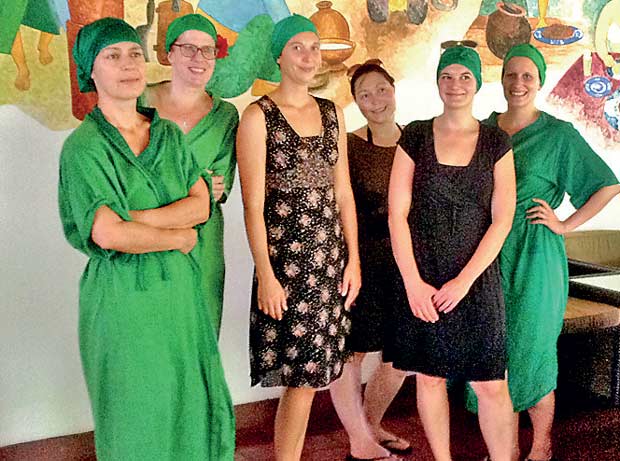 A German media group specialized in the field of Ayurveda arrived in Sri Lankan recently on a four-day familiarization tour of Sri Lanka to experience and explore Sri Lanka's own indigenous scheme of Ayurveda, which has been practiced for generations.

The tour was arranged by Sri Lanka Tourism Promotion Bureau (SLTPB) in collaboration with SriLankan Airlines and the Embassy of Sri Lanka in Germany to create awareness and to reassure the safety of Ayurveda treatment in Sri Lanka, covering key Ayurveda resorts in Negombo, Beruwela and Wadduwa.
The media group representing leading German publication houses, namely Berliner Zeitung/Berliner Verlag, GmbH, SRT, Partner, Jahn Verlag/Soester Anzeiger, Schwabische Zeitung, Der Tagesspiegel are expected to give wide coverage in German media after their unique experience of Ayurveda in Sri Lanka.

Ayurvedic experience in Sri Lanka is very popular amongst the Westerners, especially the German tourists visiting Sri Lanka. The arrival of tourists from Germany has seen a 20 percent increase year-on-year (YoY) and the Survey of Departing Foreign Tourists from Sri Lanka (2014) conducted by Sri Lanka Tourism Development Authority (SLTDA) in terms of tourist activities and overall experience of travellers has highlighted that the majority of Germans enjoy activities such as Ayurveda "Wellness and Spa", sightseeing, beaches and visits to historical sites of the island and also delighted of their stay in Sri Lanka.
"SLTPB will continue to focus on bringing down journalists and travel writers from the UK and Europe to further grow the market and to reassure the safety of our Ayurveda medicine. We will work closely with the industry partners and Sri Lankan embassies abroad to target high-quality journalists to Sri Lanka," said SLTPB Chairman Paddy Withana.