---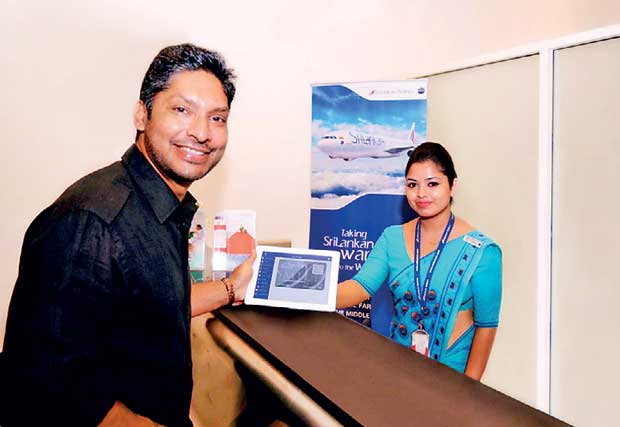 The national carrier, SriLankan Airline's frequent flyer programme, FlySmiLes which is constantly seeking to innovate its product, launched its digital card effective
01st April.
Bringing the digital card membership experience to FlySmiLes customers, this initiative will enhance convenience for frequent flyers whilst meeting the national carrier's goal to reduce its carbon footprint and mitigate any negative impact its operations have on
the environment.
Effectively, FlySmiLes members with entry level Blue status, baggage bonus, and co-branded Silver card holders will not receive a plastic version of the card. However, FlySmiLes cardholders aligned with oneworld tiers – Platinum (oneworld Emerald), Gold (oneworld Sapphire) and Classic (oneworld Ruby) - will continue to receive a plastic card to enjoy oneworld partner airline privileges. The first digital card was presented to Kumar Sangakkara flying on SriLankan Airlines to London.
The Chief Commercial Officer of SriLankan Airlines, Siva Ramachandran, said 'We are committed to reinvent and enhance the experience of flying SriLankan Airlines - and the launch of the digital FlySmiLes frequent flyer card is yet another initiative towards offering greater convenience and mobility to our passengers. Apart from extending the benefits of a digital platform to our valued frequent flyers, the airline is also carrying out this initiative as a step towards further mitigating its carbon footprint as a responsible corporate citizen. This FlySmiLes digital card initiative will make the skies greener whilst promoting sustainable and responsible air travel.''
Kumar Sangakkara commented: "I feel privileged to be the first FlySmiLes member to download the digital frequent flyer card! The SriLankan App is extremely easy-to-use and downloading the digital card too was equally simple and fast. I feel the introduction of the digital card will prove to be highly useful for FlySmiLes members like myself, who travel often and need to be able to access important information on the go. I can now access the FlySmiLes digital card on any of my mobile devices. Besides the convenience, the fact that I am reducing my own carbon footprint by going digital helps me be a more ethical and civic minded traveller, a win-win for the passengers and the airline. I would urge all frequent flyers to adopt the digital card for a greener footprint."
The advantage of the digital version is that it can be accessed and displayed on a smartphone or tablet supported by Apple or Android for greater convenience of passengers. Simply download the SriLankan App, click on FlySmiLes, log into your FlySmiLes account and obtain the digital card by clicking "Digital FFP card" on the menu. Your digital card will now be available for future use.
A member of the oneworld alliance FlySmiLes is part of an elite circle, consisting of the world's leading airlines working as one to give frequent international travellers a superior, seamless travel experience with special privileges and rewards.
FlySmiLes Platinum and Gold Members are entitled to a range of privileges such as complimentary lounge access across the oneworld network of over 1,000 destinations, priority Business Class check-in, boarding and additional baggage allowance. Together with oneworld, FlySmiLes top tier members can now earn and redeem miles on any oneworld member carrier. These privileges have been tailored to create a smooth and hassle-free journey replete with luxury.