---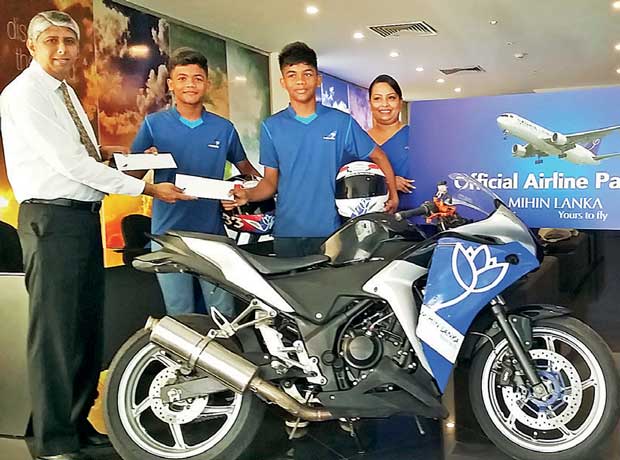 Racing is a passion of all adolescent men! However there are a rare few who excel at it on the international circuit, Aaron and Jaden Gunawardena are two such young men, who started racing at a very young age and have brought pride and international accolades to their island nation.
Jaden is 14 years while Aaron Gunawardena is just 13 years old with both of them now among the Top 20 Asian riders in the region. They recently journeyed on Mihin Lanka to take part in the Suzuki Asia Challenge which took place in Jakarta, Indonesia.
Mihin Lanka has been an integral part of both their careers once again sponsoring them on this tour, which is their latest international racing event. At a recent discussion, both Aaron and Jaden shared their passion for the racing circuit and highlights of each of their careers. They also shared their gratitude to Mihin Lanka who has played a crucial role in helping them travel to some of the region's biggest racing events. Commenting on the competitions he has won thus far Jaden stated "the biggest and most important competition I have won was an Asian road race in Taiwan, which I came third in from 20 other Asian riders. Besides that I have had several podium finishes in many other local races". Commenting on his aspirations for the upcoming race he will be taking part in "I aiming for a podium finish in this upcoming race, as I have finished within the top ten in the past"
Aaron's and Jaden's success in the local circuits, and regional racing events caught the eye of Mihin Lanka, who came forward to sponsor the young riders with complimentary flight tickets to their racing events, commenting on this Aaron said, "Mihin Lanka has been our biggest fan by sponsoring me and my brother time and time again to achieve our dreams while brining glory to our island nation. They have helped us in the past and I am proud that they have chosen to be our Official Air Line Partner as we will be travelling quite a lot. I hear my dad often saying that sponsors are hard to come by, and it is really great that Mihin is with us" he
added humbly.
"On the successful completion of this tour once we return, Mihin will be flying us back to Chennai for the inaugural season of the Red Bull Road to Rookies Cup in conjunction with Suzuki Gixxer Cup 2016, we are indeed very excited" Aaron added.
Since its introduction in 2007, Mihin Lanka has come a long way, becoming one of the region's most respected travel brands, offering direct flights to Dhaka, Seychelles, Jakarta, Bahrain, Lahore and Kolkata at a competitive price. Mihin Lanka also offers connectivity to a further 20 destinations with its code share partner Sri Lankan Airlines.