---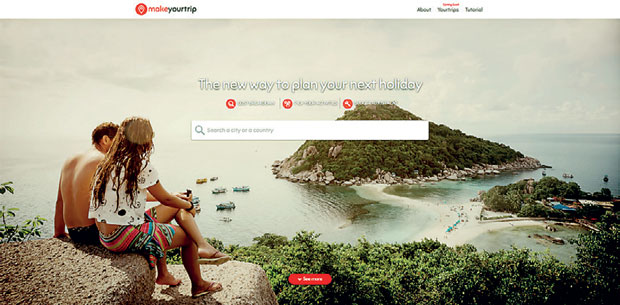 Makeyourtrip.com, Sri Lanka's first online platform to build, customise, edit and price travel itineraries, has widened its reach by adding a number of fantastic new destinations to select from.

Following up on its launch in July 2017, this innovative web-based travel customisation platform has extended its geographical offerings to now encompass unique new destinations like Cochin, Cairo, Hanoi, Ho Chi Minh and Manila. This is in addition to popular cities like Dubai, Bali, Male, Singapore, Sydney and Melbourne, as well as a number of exciting destinations in Malaysia and Thailand.

Interestingly, visitors to Makeyourtrip.com even have the choice of requesting holidays in Europe, Japan, South Africa, South Korea and London, which will be customised based on their preferences.
At the same time, the customers can continue to benefit from the ease-of-use and flexibility that are the hallmarks of Makeyourtrip.com. As simple as picking a destination, either a country or a city and then deciding what you would like to do on your trip, based on a range of options on offer. Trips can also be customised by adding or removing room nights, changing activities, switching transfer modes and including new destinations.

Lastly, costs and booking options can be amended since each is broken down into line items so your hard-earned money is more smartly allocated, with the added feature of changing one's hotel or flights, to further optimise costs, also thrown in. Best prices guaranteed. All in just a few clicks.
Still not sure how it works? Check out an easy-to-understand, step-by-step tutorial video on how to make a booking by clicking the 'Tutorial' tab on the Makeyourtrip.com Home page.

"Makeyourtrip.com has added a number of new and unique destinations in an effort to expand the greater expand the palate of Sri Lankan travellers. Our fabulous portfolio now encompasses Cochin, Cairo, Hanoi, Ho Chi Minh and Manila, in addition to our already very popular Maldives, Singapore, Malaysia, Thailand and Australia. All this, in combination with the multiple benefits offered by our unparalleled price transparency, makes our website a must visit for Sri Lankans who are enthusiastic about travel," said Makeyourtrip.com Chief Business Officer Krishnagoby Thangavel.

Powered by Findmyfare (Pvt.) Ltd, Sri Lanka's largest online travel agency, Makeyourtrip.com encompasses every aspect of a trip, from flights and hotels, to visas, transfers and even tourist activities. It is the all-in-one place to book your entire journey and stay. In addition, since the entire itinerary comes with split costing, you have full control over what you want to spend on when you plan your trip.