---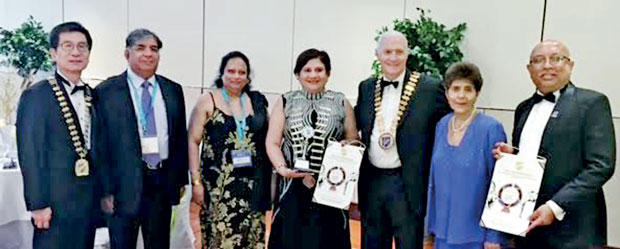 The 46th SKAL Asian Area Congress was held in Bahrain from 12 to 15 May.
Organized by SKAL International Bahrain, the event drew over 80 overseas delegates from 21 Skal Clubs and 60 delegates from the Host Club of Bahrain.
The congress was inaugurated by Shaikh Khaled Bin Humood Al Khalifa, the CEO of Bahrain Exhibition and Tourism Authority at the Gulf Hotel Bahrain.
Keynote speakers at the opening ceremony included Bahrain Economic Development Board,Tourism and LeisureExecutive DirectorJerad Bachar,from the Bahrain Airport Company,Abdulla Ahmed Mohamed, and fromSabre Travel Network
Ramzi Al Qassab.
At a private audience held during the tea break between the Shaikh and the SKAL Asian Board, the Shaikh urged Skal International Bahrain to bid for the SKAL World Congress and that he would give his utmost support towards its success.
A packed programme had been planned for the 3 days with ample time for fellowship and networking among the members.
With the motto of Skal being "Doing Business Among Friends".Also in attendance was the Skal International President Sk David Fisher from Kenya. Skal International Colombo was represented at the Congress by past President Jayantha Panabokke, President Dushy Jayaweera, Secretary Zahara Mufti and Treasurer and Past President Keerthi Jayaweera.
At the Annual Assembly held during the Congress, Dushy Jayaweera and Keerthi Jayaweera were re-elected to the SKAL Asian Area Board of Officers as Director Young Skal and Student Exchange and Treasurer for a second two-year term respectively.
During the dinner held on the final day, David Fisher awarded his personal banner to Sk Dushy and Sk Keerthi as recognition of their contributions to the Skal Asian Area.