---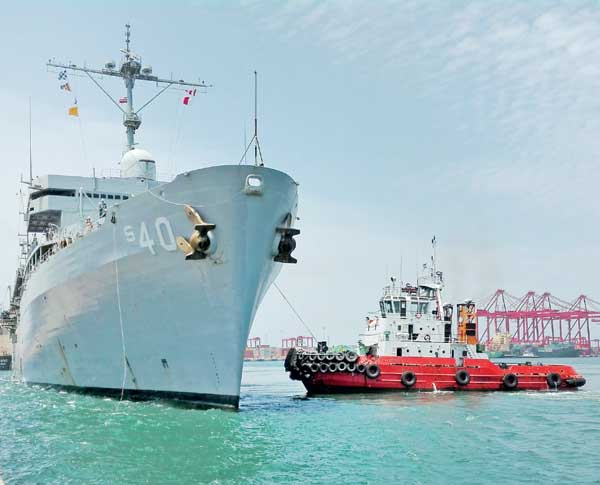 Advantis Marine, the marine services arm of Hayleys Advantis Limited, offered end-to-end port side logistics support to the USS Frank Cable (AS-40) submarine tender vessel during its recent refuelling and port visit to Sri Lanka.

Advantis provided all port agency and husbandry services to the vessel while it was berthed at the East Container Terminal of the Colombo Port from August 29 to September 1.
Keeping in mind the security requirements of such a vessel, the Advantis Marine team stepped in well before its arrival, barricading off and managing access to the designated port area. Once berthed, they managed everything from crew changes to provision of supplies for both the ship and its crew to waste removal from the vessel. They also handled ground transportation requirements for the crew, providing shuttle services for their regular visits to the city as well as guides and vehicles for their excursions to other parts of the island.

"It was our honour to provide port agency and husbandry services to the USS Frank Cable during its visit to Sri Lanka. True to our ethos of going 'beyond logistics', we worked in tandem with all stakeholders including the American Embassy in Colombo, Sri Lanka Navy, Ports Authority of Colombo and the vessel itself to provide tailor-made solutions that met their every requirement," said Advantis Marine General Manager Lilip Sanjeewa. Stationed in Guam to support US military forces and provide rescue and recovery assistance in the Indo-Asia-Pacific region, the USS Frank Cable has a crew of nearly 500 and is currently on a scheduled deployment in the US Fifth Fleet and Seventh Fleet area of operations to conduct maintenance and support for US Navy submarines and surface vessels.

Hayleys Advantis is at the forefront of the logistics industry with a vision to become Sri Lanka's logistics inspiration. The group is committed towards being an innovator in the industry, setting the pace and shaping the logistics category. Advantis Marine is a pioneer in port agency and vessel husbanding operations, with a network spreading through South Asia, the Arabian Gulf and Far East. The unit has secured a premier position in the market as a professional port agent with reliable service standards and speedy turnaround of vessels.