---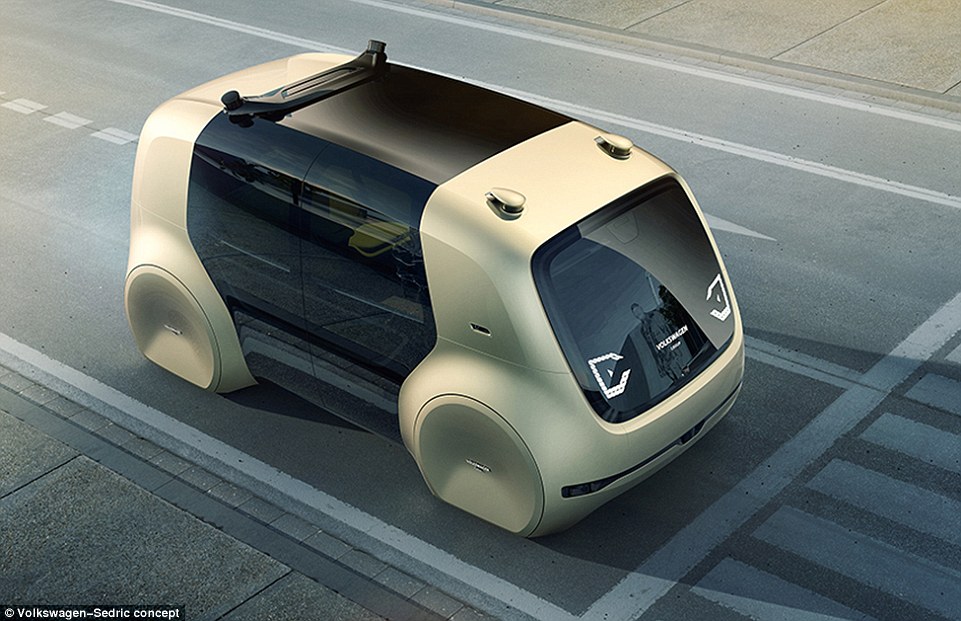 For families who struggle to tear their children away from the TV in the morning, this could be the answer.
A driverless car described as a 'comfortable lounge on wheels' has been unveiled by Volkswagen – with a windscreen that doubles as a huge television.
And there wouldn't be any worries about sleepy children losing the remote, as the vehicle's system can be controlled by voice.
Unfortunately for desperate parents, the Sedric – a name derived from 'self-driving car' – probably won't be on the road any time soon. It is a concept car, which often never go into production.
However with the first fully autonomous vehicles expected on British roads by 2020, car-makers are battling it out to create the most exciting designs.
Volkswagen revealed its prototype at the Geneva Motor Show, and stressed it could potentially be bought by individuals.
The German firm said: 'Sedric will drive the children to school and then take their parents to the office, look independently for a parking space, collect shopping that has been ordered, pick up a visitor from the station and a son from sports training – all at the touch of a button, with voice control or with a smartphone app – fully automatically, reliably and safely.'
It can also recognise users, allowing the doors to open automatically. Passengers can then talk to an in-built virtual assistant to direct the vehicle, or even to put on music or other entertainment.
The car is electric and does not have typical features such as a bonnet. However its plush interior includes birch leather upholstery, with air purifying plants.
Volkswagen is also experimenting with the idea of owning a fleet of vehicles that can be hailed by members of the public using a button carried in their pocket.
The 'shared ownership' model where motorists share cars rather than buying their own is expected to become popular in the future as self-driving vehicles take off. Ministers see the concept as a way of cracking down on air pollution, and eventually reducing congestion on the roads.
Last week Nissan became the first major car manufacturer to test self-driving cars on public roads in the UK. The Japanese firm tested prototypes of its Leaf model on busy routes in east London and hopes to make them widely available by 2020.
Small-scale tests of driverless car technology have previously been conducted in locations such as Milton Keynes, Greenwich and Bristol.
A Department for Transport study in January predicted that driverless cars could increase congestion on some UK roads for several years.
Delays on motorways and major roads during peak periods were expected to rise by 0.9 per cent when one in four cars were automated, researchers said.
Their report warned that because early models of driverless cars are expected to operate more cautiously than regular vehicles, it could result in 'a potential decrease in effective capacity and a decline in network performance'.
The analysis suggested that a reduction in congestion might not be achieved until automated vehicles made up between 50 and 75 per cent of traffic.
In November's autumn statement, Chancellor Philip Hammond announced a £390 million investment in electric and self-driving cars. (Daily Mail)