---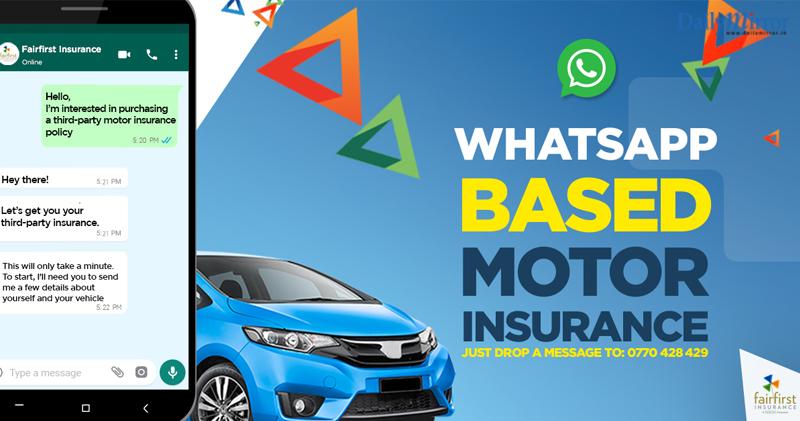 Breaking barriers of both the insurance and e-commerce industries, Fairfirst Insurance has officially started delivering insurance via WhatsApp - yet again another Lankan-first product by Fairfirst.
Riding on the waves of digital transformation, exploring a conversation-based purchase journey was certainly a top priority in our innovation agenda. Which is why we introduced, WhatsApp-based Motor Insurance which in turn allowed us to create a new sales channel. Overseen by a specialized customer service team, the user journey which involved handling inquiries to processing quotations to issuing the policy and to even collecting premiums, is done in less than 5 minutes. Furthermore, with the benefit of a paperless transaction, policies are issued instantly and virtually while on the go.
Sasith Bambaradeniya – Head of Marketing and Digital Solutions at Fairfirst Insurance, commented, "With a WhatsApp-based sales platform, it opens doors to a staggering 28 million mobile subscribers off which 60% are smart phone users. Insurance via WhatsApp is just the beginning. In the efforts of increasing the convenience of customer purchasing journey, we will be exploring other messaging channels and Natural Language Processing (NLP) capabilities as well in to the future. That's not all as we will also be expanding our catalogue of products so that you can be insured while on the go."
While it is a fun and preferred approach, WhatsApp-based Motor Insurance is also a strong testament to Fairfirts's brand practices. Which include promoting empathy and innovation across all its operations. With its delivery in turnaround time and cost-saving benefits, Fairfirst is well on its way to delivering more timely, satisfying and authentic customer experiences.
Fairfirst Insurance is part of the Canadian-based Fairfax Group. Fairfax, through its subsidiaries, has an international insurance and reinsurance business with a global underwriting reach, longstanding relationships and a broad product range. Fairfax has a strong foothold in the growing insurance and reinsurance markets of Southeast Asia, Eastern Europe, West Asia and Brazil.
WhatsApp us on 0770 428 428 and let's chat.