---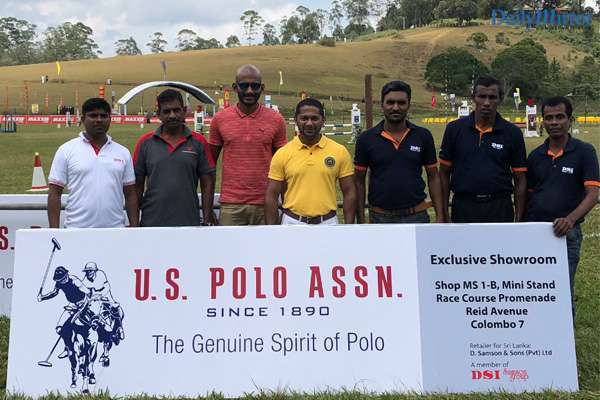 U S Polo Assn., the world renowned American gents' clothing brand was the Gold sponsor for the first ever Equestrian Sports Competition held recently at the Polo Grounds, Sri Lanka Military Academy in Diyatalawa. The global brand is marketed and distributed in Sri Lanka by D. Samson & Sons (Pvt) Ltd.
The event was organized by the Sri Lanka Military Academy (SLMA), the premier officer cadet training institution of the Sri Lanka Army in collaboration with the Sri Lanka Equestrian Association. Equestrian sports have evolved in the world based on the historical Greek military cavalry systems and this is the first time such a competition was held with the aim of uplifting the activities in the country to the international standards.
U S Polo Assn. features a wide array of gent's shirts, t-shirts, denim, trousers, shorts and accessories such as wallets, belts and bags. The brand products are authentic and officially sanctioned by the United States Polo Association, the governing body for the sport of polo in the United States since 1890. The brand captures the authenticity of the sport of polo, whilst at the same time embracing the 'Classic American Style', known for its expert combination of comfort and casualness.
D. Samson & Sons (Pvt) Ltd is the main marketing and distribution arm of DSI Samson Group and is one of the largest retail networks in Sri Lanka, providing footwear, accessories and apparel to the local customer. The international brands marketed by the company include Reebok, Puma, Fila, Clarks, Florsheim, Redtape, New Balance, INC.5,Arrow and Aurelia.
The U S Polo Assn. exclusive store is located at Shop No. 1-B, Race Course Promenade, Colombo 07 and on thefirst floor of No.137, Sir James PierisMawatha, Colombo- 02and the Colombo City Centre.