---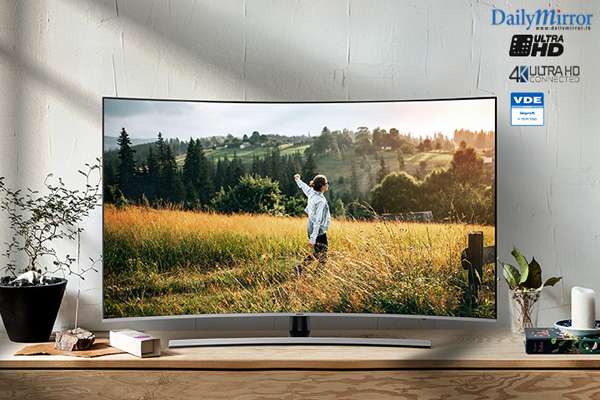 Samsung Sri Lanka has forged the next innovation in TV with the launch of its mesmerizing Ultra Large Q-LED TV in Sri Lanka for an intensely engaging viewing experience. Delivering the legendary Samsung picture quality with awe-inspiring style, the 2018 QLED TV continue to champion technological advancements and design innovations to deliver a spectacular viewing experience. The latest TV from Samsung boasts Quantum Dot technology, which uses a LED light source and a LCD panel. The QLED TV's exceptional picture quality lasts much longer and will not change over time due to a lack of burn-in issues. By using inorganic instead of organic material, the Quantum dot technology of the QLED TV makes burn-in obsolete and completely overcomes the problem of image retention. This is key to the Samsung QLED TV's long lifespan. The 2018 QLED TV comes with "Ambient Mode" that lets users convert their devices into a canvas and also act as a window to the world. It even can mimic the pattern on the wall behind the TV!
Users can watch TV for 24 hours a day without burn-in, thanks to Samsung's residual image prevention technology. Samsung QLED TVs are free of burn-in issues that have plagued displays built with QLED technology and are able to deliver the most premium picture quality available in the market today. Viewers often experience image sticking or Burn In while watching other TVs, which refers to an effect where part of an image that is no longer displayed, is still visible on a different image. Residual image, image sticking, image persistence, ghosting or image retention all refer to an effect that is temporary with the retained image elements reversed over time, sometimes very quickly, or by simply turning off the display. Screen burn-in is an extreme case of image sticking where the damage becomes permanent and cannot be reversed. The inorganic Quantum dot material used for QLED TV is durable and stays burn-in free. The QLED TV can reach 100 percent Color Volume and over 1,000 nits of HDR brightness, while also offering the best picture quality possible.
Commenting on the exciting launch of the Ultra Large Q-Led TV, Managing Director of Samsung Sri Lanka, Hanbae Park said, ''Samsung TVs are extremely popular in Sri Lanka and we are delighted to reward customers for their loyalty by pioneering the magical Q-LED technology to unveil the Ultra Large Q-LED TV that offers a captivating viewing experience. More and more people aspire to have large screen TVs as well as better picture quality to better enjoy spoorts, music and films and games, this is exactly what the Q-LED TV offers. Its revolutionary technology and intelligent features make this TV the clear choice for an unforgettaqble viewing experience. ''
In testing, Samsung QLED and LED TV sets received a 10/10 – perfect score – for image retention. Burn-in risks using Ambient Mode have already been tested and Samsung confidently guarantees its QLED TVs are burn-in free.
The latest QLED series will be available at select Singer, Softlogic, Singhagiri and Damro outlets islandwide to purchase soon.