---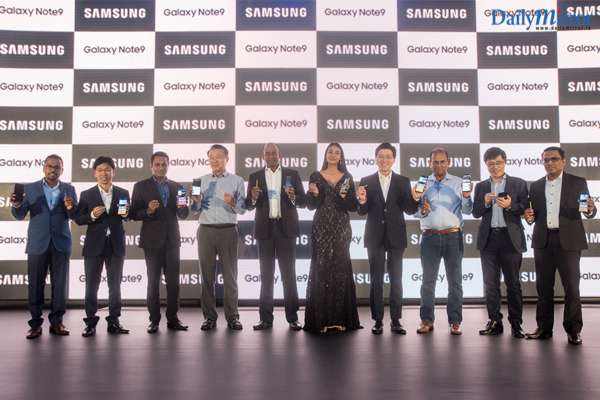 (L-R): Shantha Fernando - General Manager and Head of Mobile Biz, Samsung
Sri Lanka, Yong-Keun Hwang, Director of Mobile Biz, Samsung Sri Lanka, Sahan Perera - Senior Digital Manager, Singer, Kevin Chang - COO Softlogic, Janoda Thoradeniya - Vice President JKOA, Christina Peiris - Miss Sri Lanka and Brand Ambassador for Samsung, Hanbae Park - Managing Director, Samsung Sri Lanka, Ranjan Perera - Group Director, Softlgic Holdings, Harrison Ho Kim – Chairman, Singhagiri, Harsha Wijekoon - DGM Business Development, Damro
Samsung Sri Lanka's latest flagship device, the Galaxy Note9, has received an overwhelming response from customers in Sri Lanka. Launched recently, the sales of the Galaxy Note9 have successfully surpassed that of its earlier version, the Note8. Exceeding forecasts, sales of Note9 recorded a 200% increase over Note8, reflecting the rising eagerness with Samsung mobile devices are anticipated in the market. The Ocean Blue colour variant of Galaxy Note9 is witnessing the highest demand. Sales of Galaxy Note9 are expected to remain steady in the next few weeks, keeping true to Samsung being Sri Lanka's most preferred smartphone brand.
Samsung has already cornered the budget/affordable smartphone, market segment in Sri Lanka, and now encouraged by the hearty response to the upper end Galaxy Note9 device, Samsung, is engaging in further product innovations and plans to release more high-end devices with more innovative features in the coming weeks.
The new super powerful Galaxy Note9 has been embraced for its irresistible combination of advanced intelligence features and leading premium hardware, making it the best device on the market currently. The Galaxy Note9 boasts many features, which has made it a must-have for discerning premium smartphone users as one of the most powerful smartphones of 2018.
Galaxy Note9 is a full featured, stylish smartphone, generously packed with the best flagship features pioneered by Samsung. One of its most coveted features is the S Pen, which is a signature feature of the Note series and which has been smartly upgraded in the new Note9. The Note9 features brand new functions including Scene Optimizer and Flaw Detection, utilizing AI to get the most out of its advanced camera. The Galaxy Note9 is powerful in more ways than one. Its stunning 6.4-inch screen offers an inspiring canvas to play games, watch movies and so much more. The Infinity Display's wide Quad HD+ Super AMOLED screen provides a visual feast. Design has come to the fore in the Note9. The beautiful edge-to-edge display fits comfortably in your hand and curves over the sides for almost borderless viewing. Note9 users have no reason to worry about battery life and storage as it sports a 4,000mAh battery, the largest-ever on a flagship Galaxy phone for long-lasting power to use all-day to stream videos and do more.