---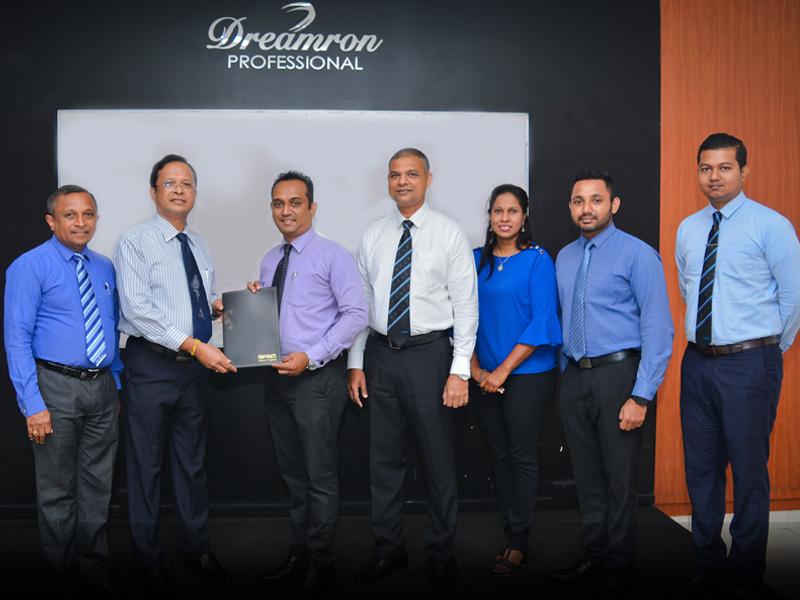 The Sri Lanka Institute of Marketing, SLIM is engaged in training a part of the Dreamron Lanka Pvt Ltd sales staff for the Certificate in Professional Sales Management (CPSM). The program which began on March 28, 2019, has been initiated to provide the CPSM qualification for 35 sales staff at Dreamron Lanka Pvt Ltd.
The CEO of SLIM, Sanath Senanayeka, Immediate Past President of SLIM, Pradeep Edward, Chairman Dreamron Group of companies, Dr. Priyanka Perera and Group CEO Dreamron Group of companies, L. E. Susantha Silva attended the official event of signing the Memorandum of Understanding (MOU) in this regard.
The Certificate in Professional Sales Management (CPSM) is a basic qualification in Sales Management that is designed for working and aspiring sales and marketing personnel. The six month program focuses on developing a sales force, coordinating sales operations and implementing sales techniques that allow a business to consistently hit, and even surpass, its sales targets.
The agreement will facilitate Dreamron Lanka in upgrading the skills of its employees, enhancing their retention and design innovative sales planning. The Diploma will open new vistas for the Dreamron Lanka marketing and sales staff. Certificate in Professional Sales Management will be a stepping stone for the staff to continue their professional education and progress to the National Diploma in Sales Management (NDSM) that could be continued to the Postgraduate Diploma qualification of SLIM.
The MOU forms a part of SLIM's commitment to support educational initiatives in the marketing fraternity and to encourage and promote professional marketing skills in the country. SLIM has always campaigned for high professional standards, greater recognition for the profession and marketing excellence in Sri Lanka through education, training and development.
SLIM is the national body for Marketing in Sri Lanka and has been promoting marketing excellence and elevating the field of marketing since 1970. SLIM is a member of the National Chamber of Commerce of Sri Lanka (NCCSL), the Organization of Professional Associations of Sri Lanka (OPA), the Federation of Chamber of Commerce and Industry of Sri Lanka (FCCISL) and the Employers' Federation of Ceylon (EFC). SLIM also has an international affiliation with the Asia Marketing Federation as the member of the Board of Management.
For more than 17 years Dreamron has committed itself purely to the business of beauty. Dreamron has set itself to offer all females and males the safest and most efficacious cosmetic products. Its state of the art research arm enables it to continually explore new offerings, while drawing inspiration from beauty rituals of Japanese technology.