---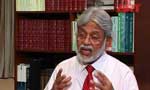 Thilak Karunaratne will assume duties as Chairman of the Securities and Exchange Commission today.This is the second time Karunaratne will assume duties as chief of the stock market regulator.

Karunaratne was first appointed as the SEC Chairman in December 2011, when the then Presidential Secretary's spouse Indrani Sugathadasa resigned from the post to 'uphold her principles'.



However, he was asked to resign by former President Mahinda Rajapaksa, who was also the then Finance Minister, just nine months into his Chairmanship, for supposedly antagonizing some highnet-worth i nvestors and influential stockbrokers.