---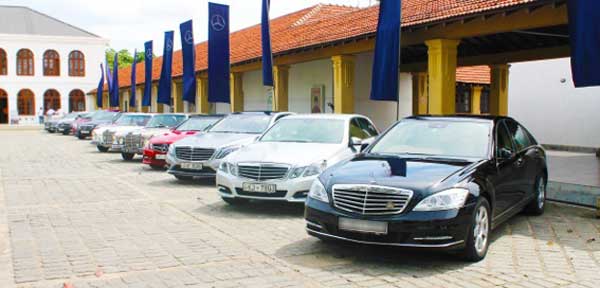 The 'Amazing Race', a fun-family rally exclusively organised for the members of the Mercedes-Benz Club of Sri Lanka took place recently.

Kicking off from Ramada Colombo, the rally spanned till Asylum Restaurant at Independence Arcade, with multiple checkpoints in-between where participants were required to perform tasks to amass points.

Upon reaching their final destination, participants were surprised with a private viewing of the much-anticipated 007 Movie, Spectre and a scrumptious lunch prepared by the chefs at Asylum Restaurant and Lounge Bar.

The first checkpoint was at Footrub, where the contestants had to park the cars, run inside with the navigator, give the driver a five-minute shoulder and head massage under the stringent supervision of the facility manager.

Upon reaching the next checkpoint Commons, one member of the team had to prepare a kottu under the close guidance of the Head Chef at Commons, who would eventually critique the dish.

In the penultimate checkpoint at the CR&FC grounds teams faced the traditional bow and arrow test with three chances to shoot at the target.

The final checkpoint was an exciting paintball challenge where the navigator had to take 15 shots at the driver from a distance.

Mercedes-Benz cars from different eras took part at the event. These included C-Class W205 (C 180), C-Class W204 and W203, S-Class W222, S-Class W221, E-Class Cabriolet W212, SL350, Iconic A45 AMG, 250 SE (W108) and W115.

The Mercedes-Benz fun rallies are held around the year, where families and friends of Mercedes owners are able to network, while sharing their passion for the three-pointed star.

The Mercedes-Benz club has played a key role in uplifting and maintaining the image of Mercedes-Benz and the informative forums held around the year are an ideal way to educate oneself about classic cars, young classics and the present models.

It includes members who are more than happy to lend a hand to anyone who needs assistance in obtaining or restoring a classic Mercedes-Benz.

Established in 1990, with the intentions of creating a platform for Mercedes-Benz enthusiasts to share their passion with Sri Lanka and the world, the club seeks to attract more like-minded individuals, add value to the brand and involve the younger generation in admiring and preserving the fury for the most beautiful cars to ever grace this planet.