---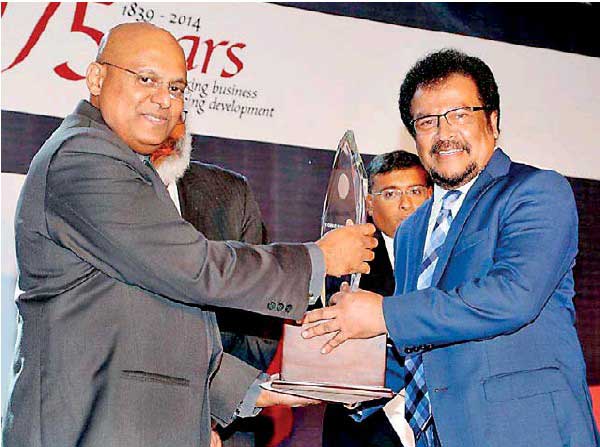 Laugfs Gas PLC and its fully owned subsidiaries emerged the winner of the 'Best Corporate Citizen Sustainability Award - Category B (less than Rs. 15 billion turnover), at the 11th Best Corporate Citizen Sustainability Awards 2014 recently.

The diversified energy giant won this prestigious award for displaying excellence in areas such as environmental sustainability, community development, employee relations, customer and supplier relations, CSR, economic contribution, financial performance and governance and reporting.

The award was presented to Laugfs Gas PLC at a ceremony held on November 25th by Ceylon Chamber of Commerce at the Cinnamon Grand Hotel Colombo. The event saw the cream of the corporate world being recognised for their efforts to adopt Best Sustainability Practices in their business processes in front of over 400 guests.

The holistic sustainability initiatives of Laugfs Gas PLC, founded on Environment, People and Economic Capitals combined with the company's focus on integrating sustainability into its day-today business and its adherence to GRI's G4 Sustainability Reporting Guidelines were additional factors which contributed towards this achievement.

Laugfs Gas PLC is a company which has prioritized environmental, social and economic sustainability when making business decisions. The company's commitment to sustainability goes beyond merely managing environmental, social and economic impacts and fulfilling its responsibilities to create value to all stakeholders but to sustaining Laugfs by delivering exceptional performance. The Company's Sustainability Policy stems from its value system and it has constantly exceeded established standards and helped create a culture of sustainability by promoting sustainable practices within Laugfs Gas.
Best Corporate Citizen Sustainability Award 2014, which commenced in the year 2004 and is organized annually by the Ceylon Chamber of Commerce, is aimed at helping local corporate firms to adopt and adapt to Sustainable practices which help preserve the planet.