---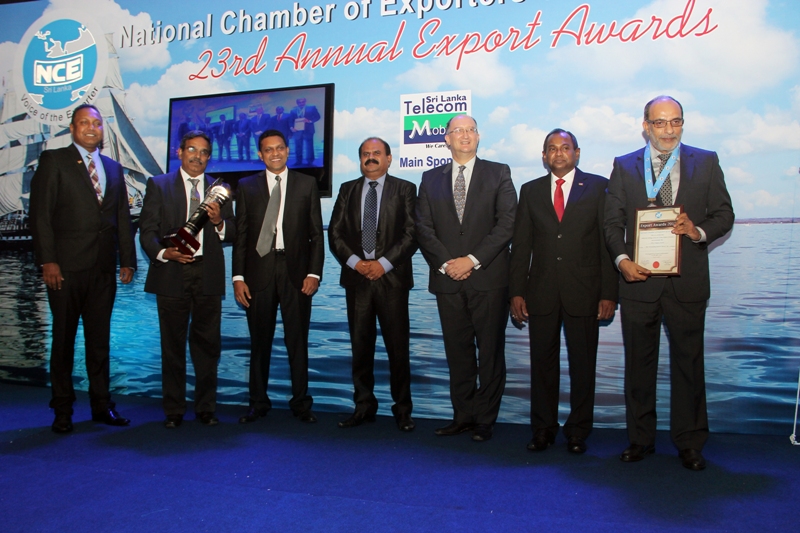 Organized annually by the National Chamber of Exporters of Sri Lanka (NCE), Export Awards 2015 was graced by Hon. Sujeewa Senasinge, Minister of State for International Trade and Hon. Dr. Harsha De Silva, Deputy Minister of Foreign Affairs with His Excellency David Daly, Ambassador and Head of the EU Delegation in Sri Lanka and Maldives, as the Guest of Honor.

Midas Safety Sri Lanka (also known as Industrial Clothings) is part of Midas Safety group of companies which is the world's leading OEM manufacturer of safety gloves. The group has three manufacturing locations in Sri Lanka while having more than 10 manufacturing locations in Pakistan, India and Bangladesh. Midas Safety operates in the country with three state of the art factories located in the Export Processing Zone (EPZ) of Katunayake, Biyagama, and Seethawaka. Midas Safety group is also focused on head-to –toe protection through its sales and distribution networks in the Middle East, India and Pakistan. Midas has its sales and marketing offices in Canada, Europe and Malaysia with technical and R&D support from Europe.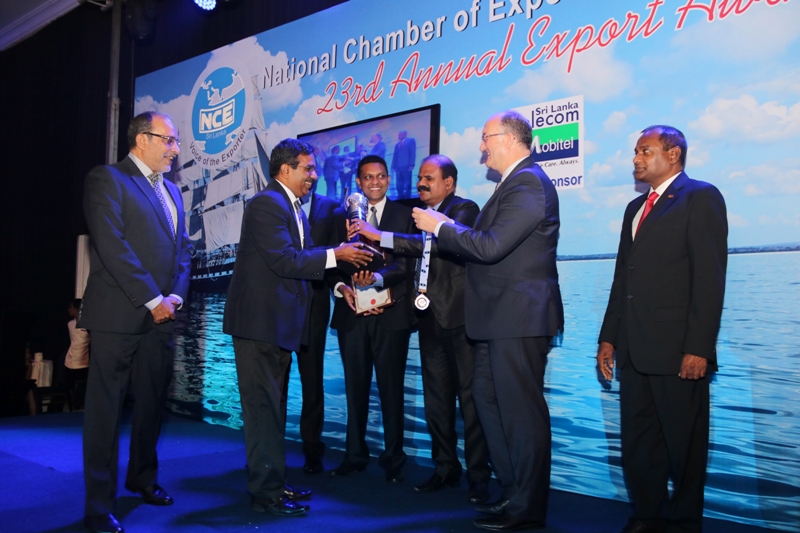 Mr. S. N. Hari - Deputy GM - Midas Safety (Prime Polymers Division) and Mr. Basheer Ali, General Manager is seen receiving the Most Outstanding Exporter- Runner-up from HE Mr. David Daly, Ambassador and Head of the EU Delegation to Sri Lanka and Maldives

One of the factories of Midas Safety, Seethawaka EPZ based Prime Polymers, one of Sri Lanka's leading manufacturers of premium quality medical and protective gloves serving a range of industries, recently walked away with a Gold for the 'best Innovative Exporter' at the 23rd Annual NCE Export Awards in addition to being the runner-up for the 'Most Outstanding Exporter'.

The company, which is affiliated to Canada-based Midas Safety Inc, also won a Silver award in the extra-large category for 'Agriculture Value Added'. Mr. Basheer Ali, General Manager of Midas Safety, said 'We are very delighted to have clinched three awards in one night including being the runner-up for the Most Outstanding Exporter. This exhibits our continuous efforts to be a leader not just in the glove manufacturing industry but also in the domestic export market as a whole.'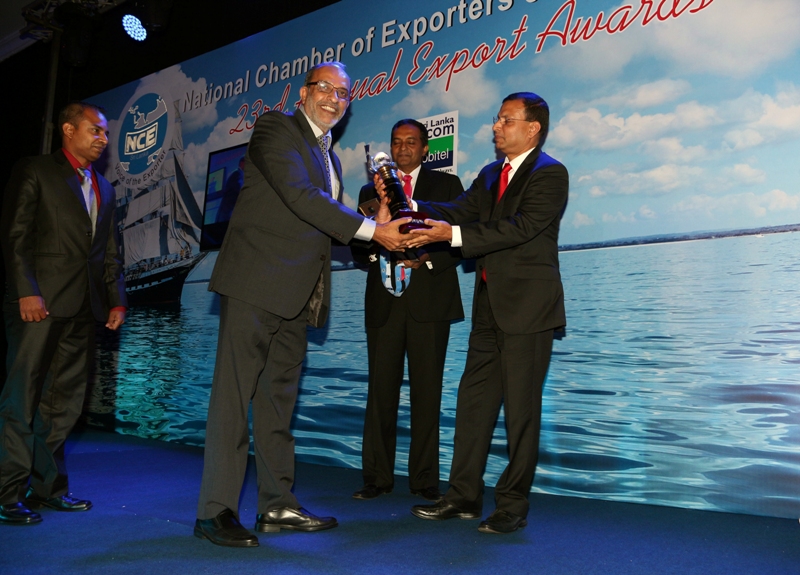 Mr. Basheer Ali, General Manager - Midas Safety Sri Lanka and Dr. Piyal Ariyananda, Regional Head R & D is seen receiving the Most Innovative Exporter Gold Award from a principal sponsor of NCE 2015

NCE, established in 1986 by a committed group of businessmen, is the only private sector Chamber exclusively serving Sri Lankan exporters and plays a major role to support the efforts of the state to achieve set export targets for economic development. Today its membership includes some of the leading export houses in the country and is known as the 'Voice of the Exporters'. The Annual Export Awards recognizes and rewards the efforts of Sri Lankan exporters to promote and expand their exports and is attended by many from the business community, state officials, and special invitees including diplomats.

Midas Safety commenced its operations in Sri Lanka in 1979, the company has been a leader in the safety gloves manufacturing field in Sri Lanka for 35 years with its products used in a wide range of industries including automotive, chemical, clean room, environmental, fabrication, food processing, metals, pharmaceuticals, plastics, pulp & paper, medical, as well as in households. Employing over 4500 local talents, Midas is a preferred employer for many young Sri Lankans.

Midas Safety possesses the most diverse portfolio in the Personal Protective Equipment (PPE) industry. All production facilities across the globe are ISO 9001:2008 certified and all products are fully tested against all applicable CE Standards. Midas Safety sells in over 40 countries of the world through offices in Middle East, Asia Pacific, North America and Europe.