---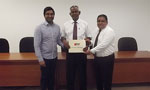 Sri Lanka's largest online travel company, findmyfare.com recently launched an unbeatable deal with Seylan Bank for their credit cardholders who want to visit Kunming in China. Findmyfare.com together with Seylan Bank will offer 100 seats on SriLankan Airlines for just one rupee (plus Airline taxes of Rs. 15,869/-) each from 13th November 2014.
This special offer has been launched as SriLankan Airlines; the country's national carrier commences flights to Kunming, China for the very first time. Flights are now operational from Colombo to Kunming every Monday, Wednesday and Friday and there are three weekly departures from Kunming to Colombo every Tuesday, Thursday and Saturday. With a flying time of just five hours, you can now fly to this incredible destination for just one rupee (plus Airline taxes of Rs. 15,869/-).
Known as 'the City of Eternal Spring', Kunming offers an eclectic mix of traditional tourist attractions, museums and cultural sites, it is also a thriving economic hub with a significant amount of trading activity. Kunming's alluring highland scenery, picturesque villages and charming places of historic interest are an integral part of the city. Renowned for its delicious local cuisine, Kunming is also famous for a variety of dishes and is home to many restaurants, pubs, bars, cafes and night markets. There are also hundreds of star-rated hotels and a variety of guest houses in all major areas of the city.
Commenting on this promotion, Thushan Shanmugaraja, Director, Sales and Marketing, findmyfare.com, stated, "Findmyfare.com is dedicated to offering the most cost effective travel deals available. This is the first promotion of its kind in Sri Lanka, and previously you couldn't even dream of travelling to Kunming or any other destination in the world, for this incredible price. This promotion embodies findmyfare.com's dedication to giving our valued customers the best value for money. We invite all of our customers to rush in having their reservation secured on the offer as only 100 seats are available."
Highlighting the partnership with findmyfare.com, Tissa Nanayakkara, Senior Deputy Genral Manager for Retail Banking, Seylan Bank stated," It is an honour for us to partner with findmyfare.com once again. As a long-time supporter and partner of this innovative travel company, we have always believed in their unique product offering. Many of our cardholders value travel as an integral part of their lifestyle, and this promotion with SriLankan Airlines and findmyfare.com enables them to enjoy new holiday destination for just one rupee."
Reiterating the importance of the partnership, Fawzan Fareid, Sales Manager, SriLankan Airlines stated, "We are pleased to partner findmyfare.com and Seylan Bank to bring this ground-breaking promotion to life. As the country's national carrier, SriLankan Airlines remains committed in connecting Sri Lankans with destinations all around the world. Kunming is the latest addition to our network as the 4th Scheduled point of operation to mainland China along with Hong Kong. Findmyfare.com has revolutionized the travel industry by using e-commerce as a trusted platform in our distribution channel."
Since its launch in 2012, findmyfare.com has become Sri Lanka's ultimate one-stop travel shop, providing the best travel deals available in the market-place. The findmyfare.com site allows customers to search, compare and book cheap flights and hotels around the world. The company was the very first in Sri Lanka to provide an online reservations system that enabled customers to confirm bookings without submitting a credit card payment.
This special offer is only valid for Seylan Bank credit cardholders and the fare of each ticket is one rupee (plus taxes of Rs. 15,869/-). Only 100 seats are available for the discount and the travel period is valid from 1st to 31st December 2014. Please note that special terms and conditions apply.